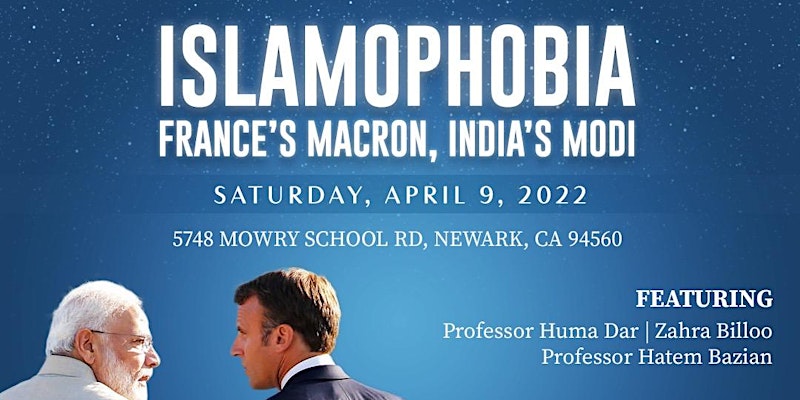 Description:
ISC's Annual Iftar Gala Fundraiser "France's Macron & India's Modi".
ISC's Annual Iftar Gala "France's Macron & India's Modi". Several of our research scholars will be discussing the global islamophobia phenomenon. We will also be presenting the latest findings of our "Islamophobia in the Tech Industry" field research.
From Europe to India, islamophobic tropes have been splashed across the pages of publications such as "The Economist" and "The Hindu" that have portrayed Muslims as a threat to the world, as well as mobilizing the familiar tropes of Muslim terrorists and radical Islam. Polemics and polarization can be violent and deadly. Help ISC mount a sustained response to dismantle the current islamophobic strategy at work. Please join us this Ramadan and kindly donate so our center may carry out its mission this year. May God bless all those who choose to donate this year, purify our work and reward you all ten-fold in this life and the next.
We look forward to hosting you!
Speaker list:
Professor Huma Dar, California College of the Arts and UC Berkeley
Zahra Billoo, Executive Director, CAIR SF Bay Area
Professor Hatem Bazian, ISC, AMP, MLFA, and UC Berkeley
---
Location:
Chandni Restaurant
5748 Mowry School Road
Newark , California 94560 United States
+ Google Map

---
More upcoming events