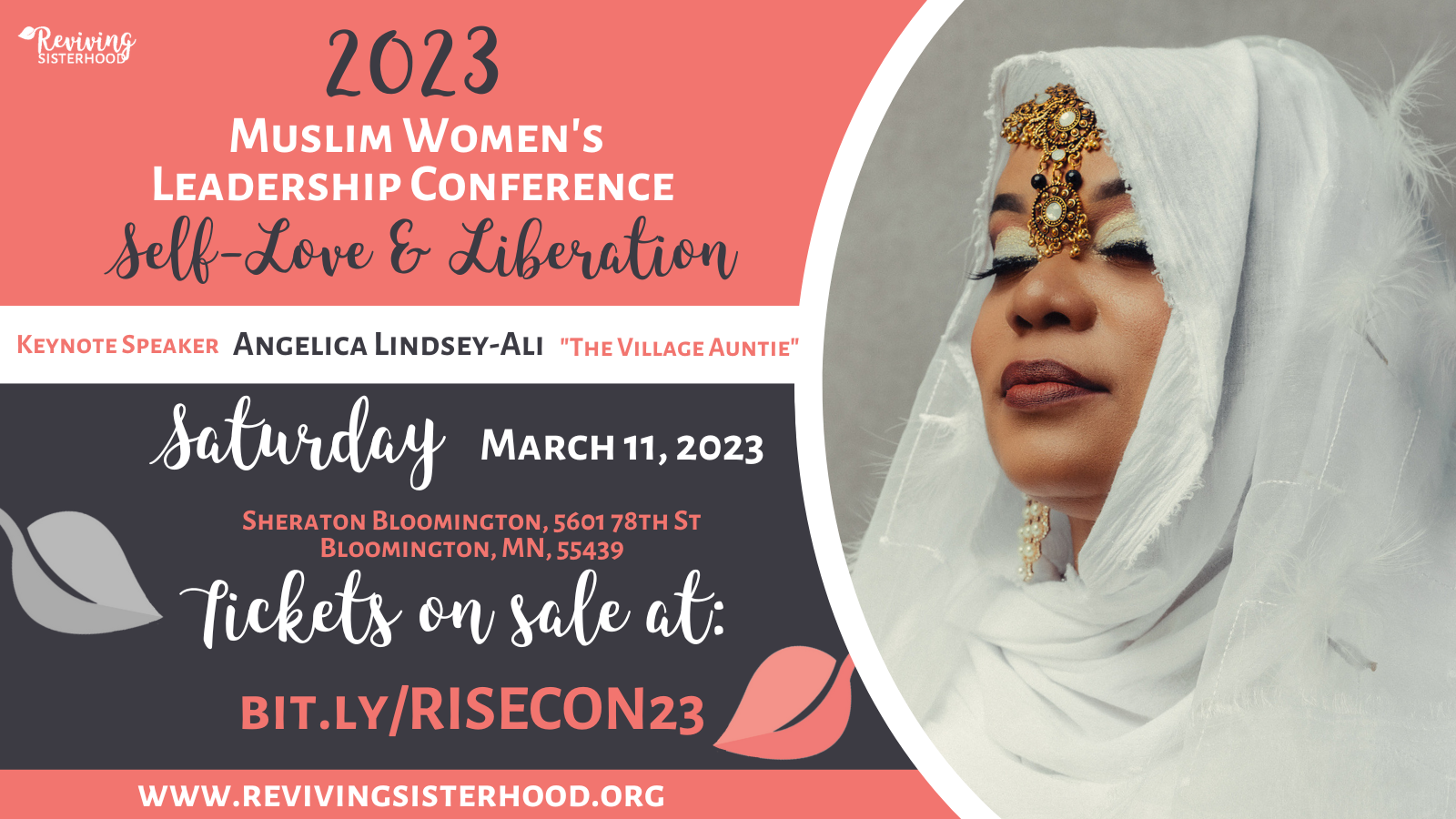 Description:
Join us for the 2023 Muslim Women's Leadership Conference!
The Sisterhood proudly presents the 2023 Muslim Women's Leadership Conference, "Self-Love and Liberation" with Keynote Speaker Angelica Lindsey-Ali aka "The Village Auntie"!
Tickets are on sale NOW at bit.ly/RISECON23
OUR SPEAKERS ARE:
Jordan Karim: founder of Flora & Noor and previous research chemist and pharmaceutical consultant who created skincare brand Flora & Noor to transform the beauty industry with clinically effective, clean, and halal certified skincare products that everyone can feel proud to use.
Hibaaq Abdillahi: a digital community builder with over nine years of writing, marketing, public relations and social media experience.
Dr. Abyan Bashir: just completed her doctoral studies in clinical psychology and specializing in trauma, the neurology of trauma, and development. Dr. Bashir has worked to impact clinics, governmental agencies, and advocacy organizations that work the BIPOC community and immigrant communities in MN.

Dr. Tamara Gray: Dr. Tamara gray is a founder of Rabata, an organization dedicated to promoting positive cultural change through creative educational experiences. She holds a doctorate in leadership from the University of St. Thomas, a master's degree in Curriculum Theory and Instruction from Temple University, and spent twenty years studying traditional and classical Islamic sciences, Quran, and Arabic in Damascus, Syria. Her work includes the daily nitty gritty of project design as well as the support and mentorship of hundreds of women around the world.
Alex Fox: a Muslim American writer, founder, and builder committed to building inclusive technology and teams. Alex is the founder of Origin of Mind, a lifestyle brand and ecommerce platform designed to raise awareness and channel support for critical social issues.
PERFORMANCE BY:
BUY YOUR TICKETS AT BIT.LY/RISECON23
---
Location:
Sheraton Bloomington Hotel
5601 West 78th Street
Bloomington , Michigan 55439 United States
+ Google Map

---
More upcoming events