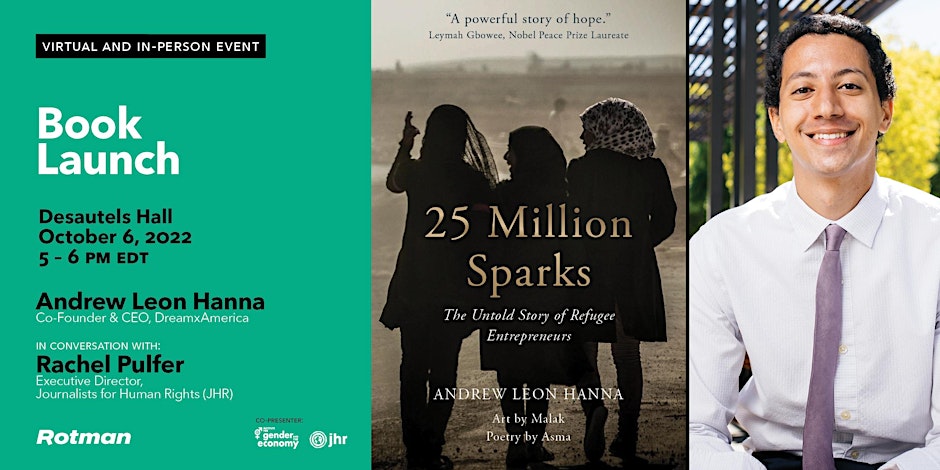 Description:
Book Synopsis:
25 Million Sparks takes readers inside the Za'atari camp to follow the stories of Yasmina, a wedding shop and salon owner creating moments of celebration; Malak, a young artist infusing color and beauty throughout the camp; and Asma, a social entrepreneur leading a storytelling initiative to enrich children's lives. Anchored by these three inspiring stories, as well as accompanying artwork and poetry by Malak and Asma, the narrative expands beyond Za'atari to explore the broader refugee entrepreneurship phenomenon in more than twenty camps and cities across the globe. What emerges is a tale of power, determination, and dignity – of igniting the brightest sparks of joy, even when the rest of the world sees only the darkness.
Andrew Leon Hanna is an award-winning Egyptian-American lawyer, entrepreneur, and author from Jacksonville, Florida. He is the author of 25 Million Sparks: The Untold Story of Refugee Entrepreneurs (Cambridge University Press), for which he won the Financial Times Bracken Bower Prize. Andrew is co-founder and CEO of DreamxAmerica and a Knight-Hennessy Scholar and Siebel Scholar at Stanford Graduate School of Business. He has been named to the Forbes 30 Under 30 list and graduated with honors from Harvard Law School, where he was an editor of the Harvard Law Review.
Rachel Pulfer is the executive director of Journalists for Human Rights (JHR), Canada's media development organization. She has led JHR since 2011. In that time, the organization has mentored and trained approximately 10,000 journalists on four continents. Previously a print reporter and magazine journalist, she was the Webster / McConnell Fellow at Massey College in 2009/2010. She is a regular commentator on media development and media freedom, and a member of the Banff Forum.
---
Location:
Rotman School of Management + Livestream
105 St. George Street
Toronto , Ontario M5S 3E6 Canada
+ Google Map

---
More upcoming events