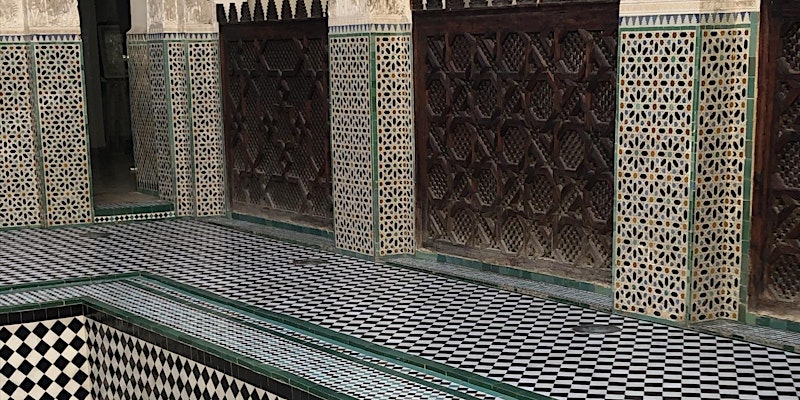 Description:
For three consecutive Saturdays, from November 6th to November 20th, Hamza will tune in live from Fes on Zoom.
Live from Fes, Morocco
The labyrinthine city of Fez has a multitude of geometric patterns artfully incorporated into its architecture. VAWAA artist and multidisciplinary craftsman Hamza has been out gathering more for you to advance your practice further.
For three consecutive Saturdays, from November 6th to November 20th, Hamza will tune in live from Fes on Zoom. You'll discover and learn how to draw 3 geometric patterns found in Sahrij Madrasa in Fes Medina (14th C.)
This 3 week series is ideal for intermediate level, but participants of all levels are welcome to join the challenge and will find it useful. You can also check out other online sessions by Hamza here.
As always, you'll meet others in the community from around the world. There will be live Andalusian oud music by Hamza, plenty of time to ask questions, draw together and share. After the session, we'll have the opportunity to continue discussions and share in the private FB group.
Joining us from a different time zone? Be sure to convert the time.
Session 1: November 6th 11:00 AM – 1:00 PM
We will begin the series with a talk on the symbolism and culture that surrounds Moroccan geometry and Islamic art. Then we'll draw this pattern – Ben Drissia (Son of Idrissia Pattern (named after its maker – someone named Ben Drissia).
Session 2: November 13th 11:00 -1:00 PM EDT
The second pattern we'll be adding to our repertoire is the Mtamen b Tir Lil Mgarmat (The 8 Fold ft. Broken Bat).
Session 3: November 20th 11:00 AM – 1:00 PM EDT
The final pattern is Drej w Ktef (Step and Shoulder).
What you'll need
A compass, divider, mechanical pencil: 0.5 HB (any), ruler, sheets of paper (A4 or A3), eraser, sharpener, and coloring pencils.
How to join
We'll be hosting this VAWAA Online on Zoom. We'll send link and details to join via email 1 day and again 1 hour before it begins.
About Hamza
Hamza is an Andalusian Oud musician, a geometer, brass-smith, bookbinder, paper-maker, and founder of a crafts studio dedicated to Moroccan arts and crafts in Fes. He comes from a multigenerational family of artisans and passing on crafts knowledge is a family culture. He apprenticed under his father and traveled around 15 countries crafting and learning from masters. Now his mission is to continue this legacy and help people around the world connect with old Moroccan crafts. His traditional art revolves around the art of Compass & Ruler. With those two instruments, he draws and traces Moorish and Islamic geometric patterns, etches and engraves them on brass and copper trays and embosses them on leather book covers.
Visit his artist page to learn more about his in-person VAWAA.
Reviews
"Working live with Hamza was truly inspiring. He is an excellent teacher and was also able to ground us with the cultural significance of his art all throughout the lesson." – Steve
"Mr Hamza is an amazing teacher. He taught in a simple way and he gave a nice historical speech about islamic geometry. I love how he gives variations and different possibilities of the pattern. This opens up our curiosity and nourish our creativity." – Mona
"The surprise moment was when Hamza played this instrument for us after we were done with the pattern making. This made the whole experience personal & real." – Hitasha
"Well conducted using Zoom enabling us to understand the process and produce an attractive repeating pattern in a short time." – Sally
"The two hours with a fantastic teacher flew by! I'd recommend it if you get the chance!" – Ezra
"It's addicting!" – Candy
"Being able to participate in the Moroccan Geometric Patterns workshop with Hamza was educational and inspiring. Not only was his teaching wonderful but getting to hear him play the oud was a treat every week. My classmates were also inspiring and I hope to take more classes with Hamza in the future… perhaps one day in Morocco." – Tania
"Excellent, Excellent, Excellent! Hamza is a wonderful–and very patient–teacher, who guided students to learn and successfully create designs we thought impossible to master." – Nicole
Browse other VAWAA Online Sessions
Learn more about VAWAA in-person mini apprenticeships
Subscribe to latest news and updates from around the world here
---
---
More upcoming events