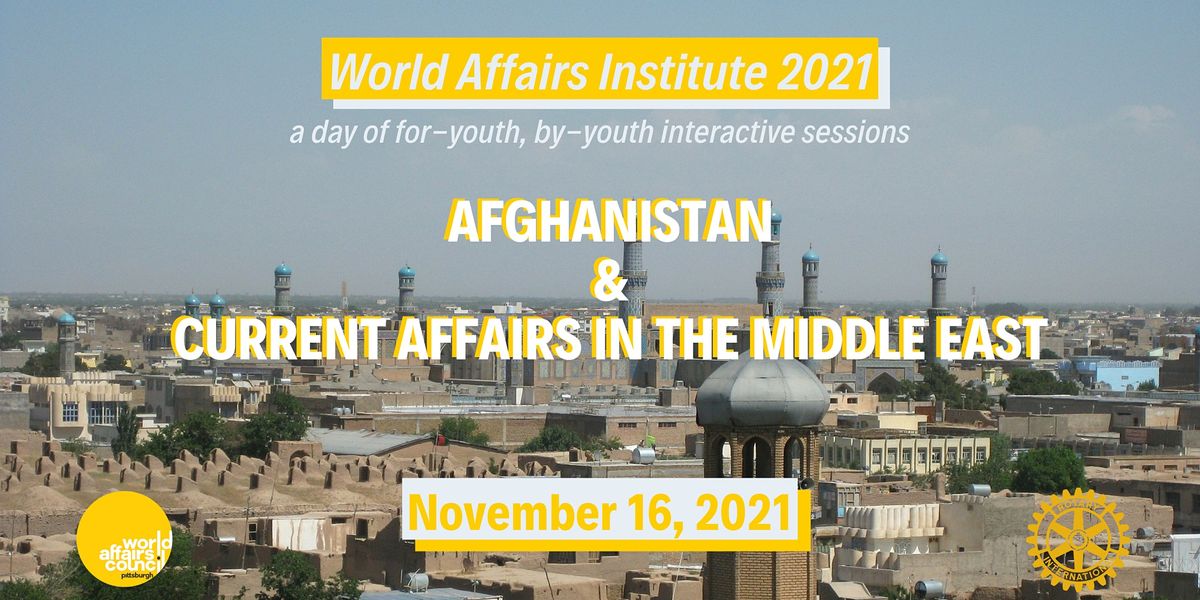 Description:
Designed by and created for youth, the World Affairs Institute will feature in-depth sessions and interactive workshops with experts and activists. The Institute engages student leaders in discussions of key issues in international affairs so that they can understand and think critically about their world.
Each year the Institute explores a different topic. This year's topic: Afghanistan & Current Affairs in the Middle East. Students will learn about current affairs in the Middle East through exploring foreign policy, human rights, media and journalism, and daily life.
The World Affairs Institute is FREE and open to all high school students (grades 9-12) and educators.
The Institute is sponsored by Rotary International and the World Affairs Council of Pittsburgh. This year's Institute marks the 51st year of collaboration between the Council and Rotary International.
More information will be announced soon!
TENTATIVE AGENDA
 7:30 AM Optional Morning Session (Getting the Conversation Started)
 8:00 AM Welcoming Remarks 8:15 AM Mainstage Session: Foreign Policy in the Middle East
 8:45 AM Transition to Breakout Sessions
 8:50 AM Foreign Policy Breakout Sessions
 9:35 AM Break/Transition to Mainstage Session
 9:50 AM Mainstage Session: Life as a Young Person in Afghanistan Today
 10:05 AM Mainstage Session: Human Rights in the Middle East
 10:35 AM Transition to Breakout Sessions
 10:40 AM Human Rights Breakout Sessions
 11:25 AM Interactive Lunch Break
 11:55 AM Mainstage Session: What does it mean to be Muslim? Islam Around the World
 12:10 PM Mainstage Session: Media Coverage of Afghanistan and Middle Eastern Affairs
 12:40 PM Transition to Breakout Sessions
 12:45 PM Media & Journalism Breakout Sessions
 1:30 PM Transition to Mainstage Session
 1:35 PM Mainstage Session: Student-Moderated Career Panel
 2:05 PM Closing Remarks
 2:15 PM Optional Afternoon Session (Taking Action)
 3:00 PM End
---
---
More upcoming events