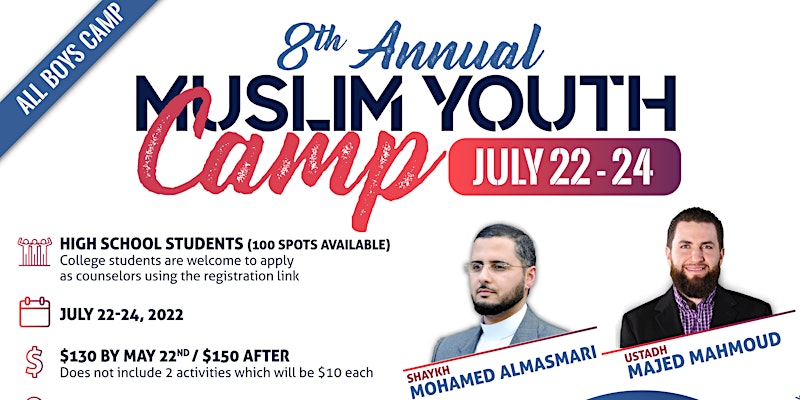 Description:
8th Annual Muslim Youth 2022 Boys Only Summer Camp
Dear Parents and Participants,
Welcome to the 2022 Muslim Youth All-Boys Camp.
Who: High School Brothers
Please read everything below:
Registration
There are few forms you need to fill out at the time of registration.
These forms will be emailed to all registered campers. They must be printed out, signed, and brought with you to camp orientation.
Liability Form
Waiver Form
Medical History Form
Discipline Policy / Agreement
Please go through everything very carefully.
Campers that do not have all forms signed and turned in by orientation will not be able to attend the camp.
Cost
Early Bird Before May 22: $130 per person
General Admission After May 22: $150 per person
General Admission Deadline – July 15th, 2022
Transportation
Drop-off/Pickup will be at Masjid Al-Salam.
Address: 3900 Schaefer Rd, Dearborn, MI 48126
Drop-off: Friday, July 22th (In the Morning – Time TBD)
Pickup: Sunday, July 24 at 5:00 PM
Camp Location
YMCA Camp Nissokone
Address: 6836 F-41, Oscoda, MI 48750
Phone Number: (989) 739-2801
Rules
In order for all the participants to benefit from the camp, it is crucial that the rules attached be reviewed with your child and followed during the camp. Please read the following Discipline Policy and Rules.
Discipline Policy
When inappropriate behavior is demonstrated or rules are broken, the following steps will be taken:
Camper will be given 3 warnings.
An age appropriate time out from the activity will be issued.
Total exclusion from the activity and work detail may be assigned.
A call will be made to the parents.
MYC Rules & Contract
Please read and discuss the following with your camper(s):
Respect the authority of your counselors. Follow their directions since that authority is necessary for your welfare and safety while at the camp.
Campers must remain with their counselor at all times.
Maintain a positive attitude throughout the camp and demonstrate good team playing skills and sportsmanship. Do your best to be kind and to help others.
Do not interrupt the counselors, lecturers, or your peers when speaking.
Respect the dignity and property of your peers and counselor
Do your best to stay on camp schedule and arrive to all the activities on time. Please do not waste time when the time comes to sleep, eat, or wake up for prayer.
Maintain good hygiene at all times and always wash your hands after eating.
Keep your cabin and area clean and organized.
All campers must attend orientation.
Please note that MYC Administration has the right to dismiss a participant from the camp when a certain behavior is deemed negative and/or disruptive, and if there is a constant refusal to follow the rules.
With the help of Allah(swt), your dedication, and positive attitude, we can make this camp into a truly beautiful and memorable experience.
Jazakum Allahu Khayran,
MYC Administration & Staff
---
Location:
YMCA Camp Nissokone
6836 F41
Oscoda Twp , Michigan 48750 United States
+ Google Map

---
More upcoming events