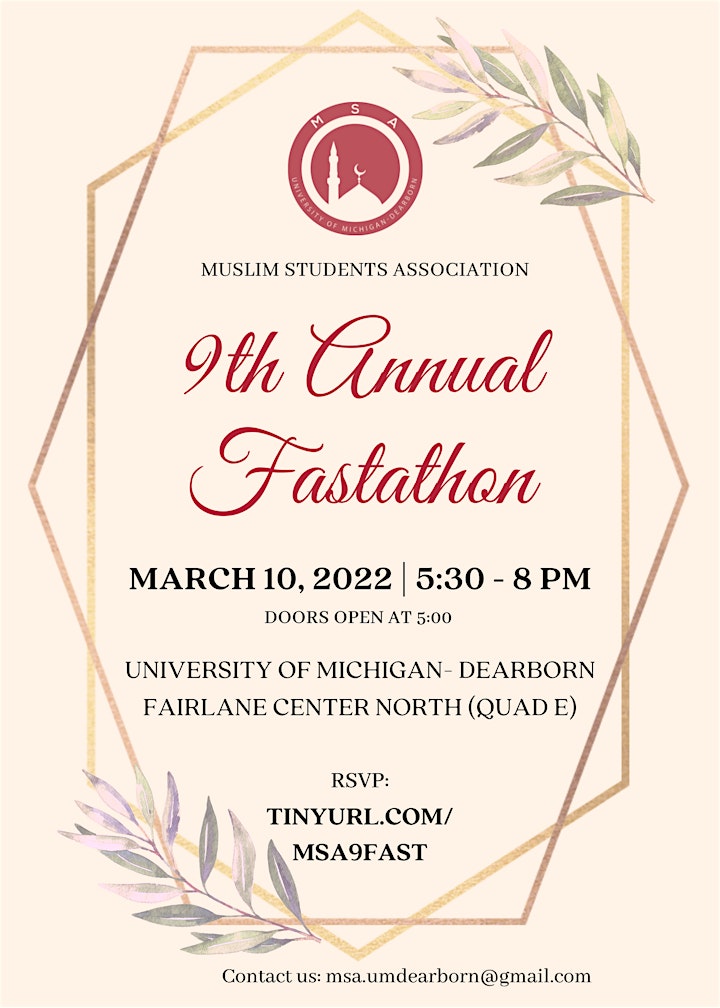 Description:
MSA's annual inclusive dinner which encourages people of all faith backgrounds to remember to help the less fortunate
What is Fast-a-thon?
The concept of the Fast-a-thon comes from decades of MSA tradition. The Muslim Students Association (MSA) is a student-run organization on campus dedicated to bridging the gap between the Muslim and non-Muslim population on the University of Michigan – Dearborn campus and in the community. This event is an example of uniting all types of individuals for a philanthropic cause. The reward that comes from the Fast-a-Thon is two-fold. Not only have you sacrificed for the sake of those less fortunate, but you will also be gaining a sense of self-fulfillment by fasting. Because the Islamic concept of fasting requires refraining from consuming food and drink from sunrise to sunset, the MSA has adopted this notion for the Fast-a-thon cause.
The Impact
Not only will you be taking part in one of the biggest events on the UM-Dearborn campus, but you will be directly making an impact on fighting hunger. Last year, the MSA was able to raise over $7000 for charity! As a remake of our classic Fast-a-thon program, Fast-a-thon has the following goals:
Emphasize the urgency of hunger issues around the world, specifically in the Detroit metro area
Actively combat hunger by raising money for local, regional, and international charities addressing hunger issues
100% of the proceeds from the event will go to the two charities: United Humanitarian Relief (UHF) & UM-Dearborn's very own Orphan Relief (OR)
Other Ways You Can Help
Make a pledge! Spread the word! Share our campaign with friends!
We also accept donations via:
VENMO: @UMD-MSA
CASHAPP: @UMDMSA1
PAYPAL: [email protected]
CASH/ZELLE/APPLEPAY: must contact an MSA member
EARLY BIRD DONATION DISCOUNT ($15) will be ongoing until 2/28. Receive a FREE T-shirt!
---
Location:
Fairlane Center North - Quad E
19000 Hubbard Drive
Dearborn , Michigan 48126 United States
+ Google Map

---
More upcoming events