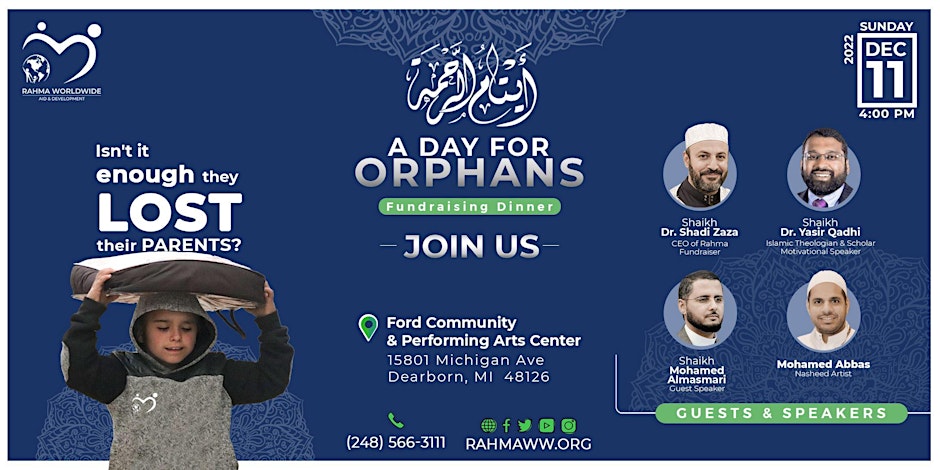 Description:
Contact the organizer to request a refund.
Eventbrite's fee is nonrefundable.
Seeking the company of our prophet Mohammed (PBUH) in a special gathering in Dearborn, MI with renowned speakers & artists to support the Rahma Worldwide orphans' project in Yemen. Please Share this invitation with your friends to share the rewards (Ajr).
عَنْ سَهْل بْن سَعْدٍ عَنْ النَّبِيِّ صَلَّى اللَّهُ عَلَيْهِ وَسَلَّمَ قَالَ أَنَا وَكَافِلُ الْيَتِيمِ فِي الْجَنَّةِ هَكَذَا وَقَالَ بِإِصْبَعَيْهِ السَّبَّابَةِ وَالْوُسْطَى
Sahl ibn Sa'd reported: The Prophet, peace, and blessings be upon him, said, "Myself and the caretaker of an orphan will be in Paradise like this," and he held his two fingers together.
• Orphans for Syria, Yemen, Africa and Pakistan.
• Dinner will be served 5:30pm.
• No children allowed in main banquet.
• Babysitting provided with an extra fee.
---
Location:
Ford Community & Performing Arts Center
15801 Michigan Avenue
Dearborn , Michigan 48126 United States
+ Google Map

---
More upcoming events