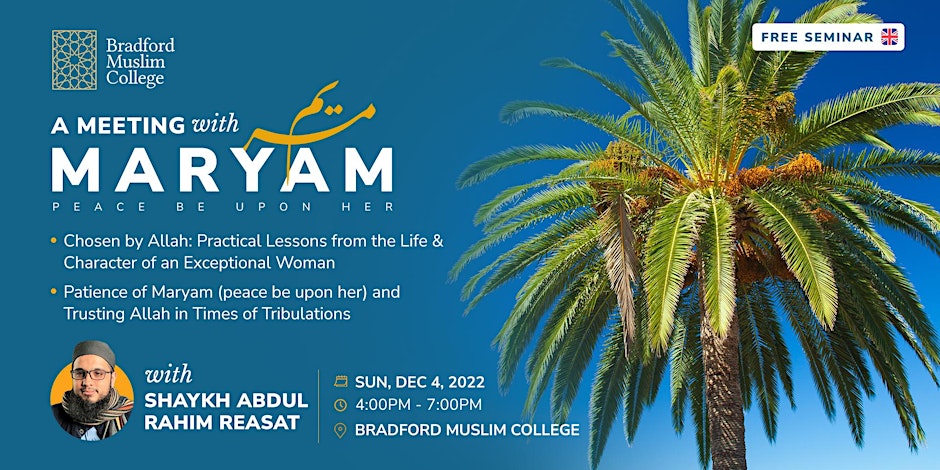 Description:
A Meeting with Maryam — Chosen by Allah: Practical Lessons from the Life of an Exceptional Woman
Come and join us to hear the Islamic narrative of the birth of the Prophet Jesus through an examination of Quranic verses relating to Maryam (peace and blessings on them both). This entails looking at the tests she was given by God, her responses to them, and how believers should respond to the tests and difficulties they are faced with in life.
Shaykh Abdul Rahim will examine how tests make us express our humanity and neediness to Allah, and how faith in Him allows a person to persevere – to the best of their ability – beyond what they could bear without faith.
Through this lens, the program shall look at practical approaches to tribulations and other real scenarios people face, such as suicide and despair. This knowledge equips a Believer to face the slings and arrows of fortune whilst seeing that it is all beneficial for one – even if it is not apparent in the short term.
Who can Benefit:
Muslims of all ages can benefit from the accurate account of the birth of Jesus (peace and blessings be on him)
Anyone facing difficult trials can take solace from the lessons in the verses of the Quran.
Anyone interested in the art of the Quranic narrative
Learning Outcomes:
Explain the circumstances of Maryam's labor and delivery accurately.
Understand the nature of difficulties and trials.
Gain practical, faith-based responses to tests that enable one to endure difficult trials.
Join us for a Critical Seminar as we explore practical lessons from a life of an exceptional woman whom Allah chose: A Meeting with Maryam with Shaykh Abdul Rahim Reasat in Bradford, U.K, on Sunday, December 4, 2022 from 4 pm – 7 pm at Bradford Muslim College.
After Shaykh Abdul Rahim's sessions, the students and attendees will have the opportunity to ask questions to the teacher to contextualize some of the take-home lessons from the seminar.
More FREE courses with Shaykh Abdul-Rahim Reasat can be found at SeekersGuidance.
*Snacks & Refreshments will be served during the seminar to all in-person attendees.*
About the Instructor:
Shaykh Abdul-Rahim Reasat began his studies in Arabic Grammar and Morphology in 2005. After graduating with a degree in English and History he moved to Damascus in 2007 where he studied with erudite scholars such as Shaykh Adnan Darwish, Shaykh Abdurrahman Arjan, Shaykh Hussain Darwish, and Shaykh Muhammad Darwish.
In late 2008 he moved to Amman, Jordan, where he continued his studies for the next six years in Sacred Law (fiqh), legal theory (usul al-fiqh), theology, hadith methodology, hadith commentary, and Logic with teachers such as Dr. Ashraf Muneeb, Dr. Salah Abu'l-Hajj, Dr. Hamza al-Bakri, Shaykh Ahmad Hasanat, Dr. Mansur Abu Zina, and others. He was also given licenses of mastery in the science of Qur'anic recital by Shakh Samir Jabir and Shaykh Yahya Qandil.
His true passion, however, arose in the presence of Shaykh Ali Hani, considered by many to be one of the foremost tafsir scholars of our time who provided him with the keys to the vast knowledge of the Quran. With Shaykh Ali, he was able to study an extensive curriculum of Qur'anic sciences, tafsir, Arabic grammar, and Arabic eloquence.
When he finally left Jordan for the UK in 2014, Shaykh Ali gave him his distinct blessing and still recommends students in the UK to seek out Shaykh Abdul-Rahim for Quranic studies. Since his return, he has trained as a therapist and has helped a number of people overcome emotional and psychosomatic issues. He is a keen promoter of emotional and mental health.
---
Location:
Bradford Muslim College
249 Kensington Street
Bradford , BD8 9LN United Kingdom
+ Google Map

---
More upcoming events