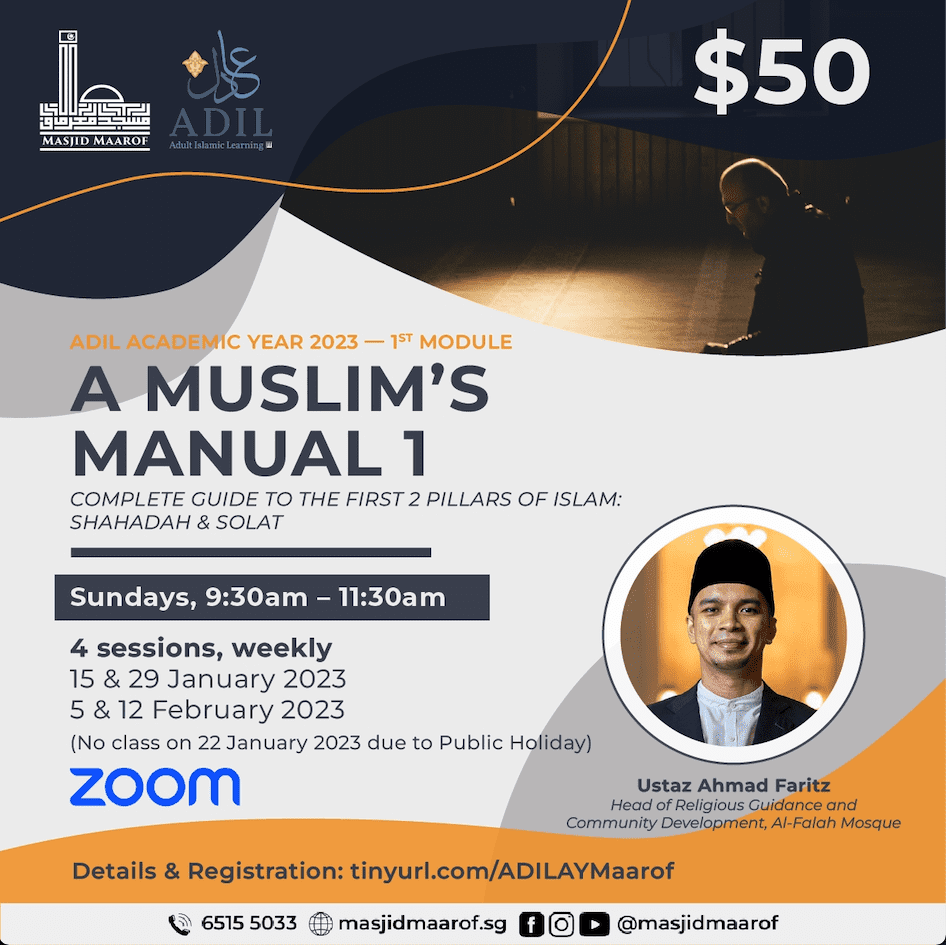 Description:
Assalaamu'alaikum wr. wb.
ADIL Academic Year (AY) consists of a series of ADIL modules over the course of an academic year. It is developed for Muslim adults to receive Islamic learning in structured, modular settings, providing more opportunities for closer interaction and engagement with the Asatizah every week.
Day/Time: Sundays, 9:30am – 11:30am
Participants: 19 year-olds and above
Language Medium: English
Platform / Venue: Zoom / Online
Modules in AY2023*:
1) A Muslim's Manual 1 – Syahadah & Solat
2) A Muslim's Manual 2 – Fasting, Zakat & Hajj
3) Light of Faith 1 – Belief in Allah, The Angels & Divine Books
4) Light of Faith 2 – Belief in The Prophets, The Last Day & Destiny
5) Living Sources 1 – Understanding the Quran
6) Living Sources 2 – Understanding the Sunnah
7) The Chosen One 1 – Prophet Muhammad's Characteristics and Values (Part 1)
8) The Chosen One 2 – Prophet Muhammad's Characteristics and Values (Part 2)
9) Tafsir Surah Al-Fatihah –  A comprehensive understanding of Surah Al-Fatihah
10) History of Islam in Southeast Asia –  Spread of Islam in this region and role of Singapore in its development
*subject to changes
For more details on the modules, you may visit adil.sg.
FEES
$50/module
Enrolment is confirmed once payment is made.
May Allah bless our journey in seeking His knowledge, ameen. Do contact us at [email protected] for any queries.
Thank You & Wassalaam,
Dakwah Department
---
---
More upcoming events