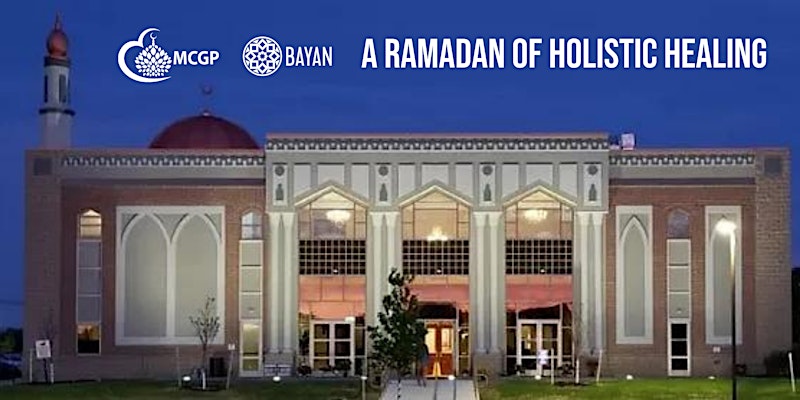 Description:
Join the MCGP community along with Imam Safwan Eid, Chaplain Sondos Kholaki, Shaykh Abdallah Deeb, and Imam Ahmad Deeb on 3/11 and 3/12!
This event is open to all and it will have multiple parts to it. See below for the rough schedule (subject to change) for the sessions you can anticipate. Lunch and dinner will be provided on Saturday.
Friday Khutbahs:
Khutbahs by guest speakers at 1:15pm and 2:15pm
Youth Khutbah 3:30pm
Friday Family Spiritual Night at 8:00pm:
Talk on the subject by a panel of speakers.
Qur'an Recitation by Shaykh Abdallah Deeb and Shaykh Ismail Essa, followed by soothing dhikr.
Saturday Schedule:
1:15pm – Dhuhr prayer
1:30pm – Attendee check-in
2:00 – Intro: A Ramadan of Holistic Healing
2:45pm – Manhood: Developing Cultures of Intergenerational Suhbah
2:45pm – Womanhood: Developing Cultures of Intergenerational Suhbah
3:45pm – Lunch and Suhbah Activity #1
4:45pm – Asr prayer
5:30pm – Personal Fiqh Workshop and Ramadan Planning
6:30pm – Dinner and Suhbah Activity #2
7:00pm – A Holistic Ramadan (Panel Discussion)
8:45pm – Maghrib prayer and closing du'aa
Thank you to Bayan Islamic Graduate School for supporting this event and alumni of the institution (Imam Safwan, Imam Ahmad, and Chaplain Sondos) for sharing their breadth of knowledge with the New Jersey Muslim community to lead us into a fruitful Ramadan, insha'Allah!
---
Location:
Muslim Center of Greater Princeton
2030 Old Trenton Rd
West Windsor Township , New Jersey 08550 United States
+ Google Map

---
More upcoming events