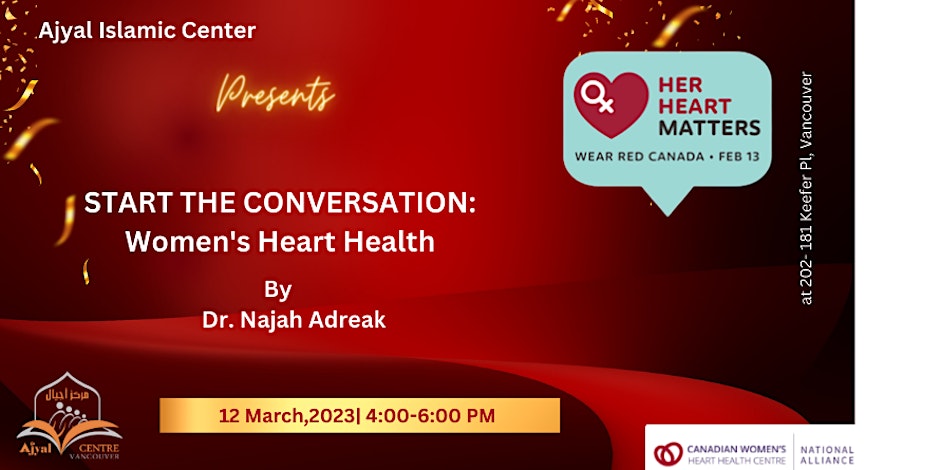 Description:
Heart and vascular disease is the leading cause of hospitalization and premature death
for women in Canada.
Globally, cardiovascular diseases affect 1 out of 3 women, yet women everywhere are under-studied, underdiagnosed, under-treated, and under-aware regarding their heart and vascular health. The good news is that 80% of risk factors for heart and vascular diseases are largely preventable.
Wear Red Canada is celebrated annually across Canada on February 13th to raise awareness about women's heart and vascular health. Proudly hosted by the Canadian Women's Heart Health Alliance and funded by the Canadian Women's Heart Health Centre.
Dr. Najah Adreak, the trainee representative from the alliance and co-lead for Wear Red Canada in collaboration with Ajyal centre, invites you to attend the #HerHeartMatters workshop, where she will talk about women's heart health, followed by a mini cooking session and nutritional tips.
Let's celebrate the Wear Red Canada campaign and be mindful, curious, and proactive in managing our heart health and wellness.
Please Wear Red and bring your reusable dishes and utensil to try the delicious healthy salad.
Thanks to Burnaby's small neighbourhood grant for supporting this event.
---
Location:
Ajyal Islamic Centre
181 Keefer Pl
Vancouver , British Columbia V6B 6C1 Canada
+ Google Map

---
More upcoming events