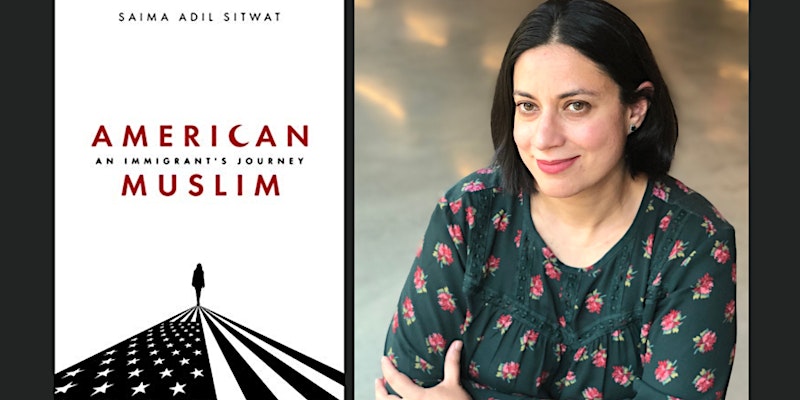 Description:
Talk and Q&A with Saima Sitwat, author of "American Muslim: An Immigrant's Story."
Join author, Saima Sitwat, for a conversation about major themes of her book, American Muslim: An Immigrant's Journey. Hear excerpts from Sitwat's memoir and explore questions such as, "What does it mean to be a minority, a Muslim, an immigrant, and a woman in 21st-century America?" Co-sponsored by Towson University Center for Student Diversity and TU Women's and Gender Studies.
Suggested donation: $15. Make a donation at bit.ly/aacc-donate
This program is part of Creative Confluence: South Asian Community Reflections, Connections, and Dialogue, AA&CC's celebration of creativity and diversity in the DMV's South Asian communities curated by a team of local South Asian artists and leaders including Samia Mahbub Ahmad, Nadia Amdad, Ryan Artes, Shanthi Chandrasekar, Nilimma Devi, Ameena Fareeda, Harjant Gill, Farida Hughes, Anila Kumari, Shyama Kuver, Alif Laila, Neha Misra, Adrianna Morgan, Pratisha Pradhan, Rachana Saurabh, Priya Sekar, Manoj Singh, Jasmine Smith, Shobha Subramanian, Nimi Trehan, and Nikita Yogaraj.
Info: towson.edu/asianarts
The Asian Arts & Culture Center is grateful for the generous support of E. Rhodes & Leona B. Carpenter Foundation, Maryland State Arts Council, Central Baltimore Partnership, Yoshinobu & Kathleen Shiota, Citizens of Baltimore County, Ro & Marius P. Johnson Charitable Legacy, Inc, AA&CC members and donors, Baltimore Community Foundation, TU College of Fine Arts & Communication, Jayamangala, TU Department of Music, Alan Shecter & Rosalind Ehudin, Robert Mintz & Beth Arman, Asia Collective Night Market, Anthony & Bonnie Montcalmo, Harold J. Kaplan Foundation, Barbara L.S. Pierce, Deep Vision Dance Company, Baltimore Theatre Project, Lord Baltimore Hotel, Howard County Arts Council, Motor House, TU Center for Student Diversity, TU Women's & Gender Studies, TU Marketing & Communications, TU Department of Art+Design, Art History, Art Education, Columbia Tree & Lawn Service, and the DC South Asian Arts Council.
---
Location:
Towson University - University Union - Room 324
281 University Avenue
Towson , Maryland 21204 United States
+ Google Map

---
More upcoming events