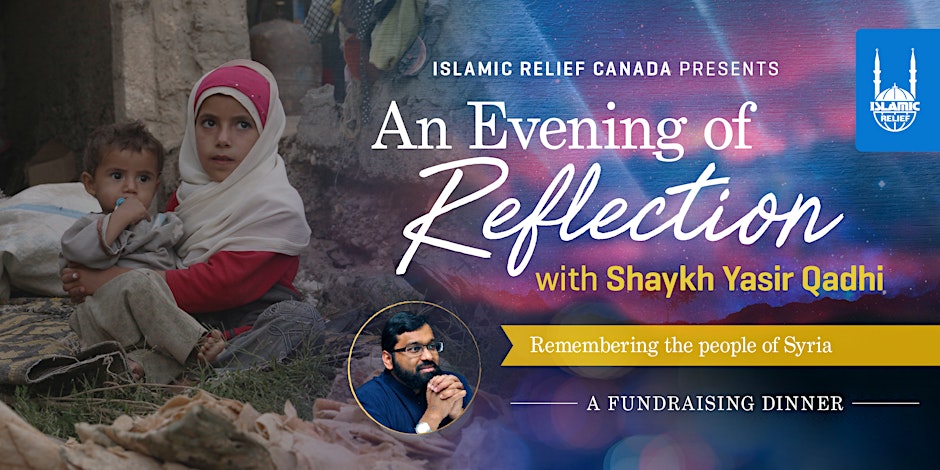 Description:
Join Islamic Relief Canada in welcoming our esteemed professor, author and theologian, Shaykh Yasir Qadhi in Surrey for An Evening of Reflection.
A timely reflection, on oneself, the community and the Ummah allows you to graciously and confidently go through the hurdles of life and reflect on the true meaning of it.
Come out to learn from our esteemed teacher, Shaykh Yasir Qadhi, and support the people of Syria.
✨"And whoever saves a life it is as though he had saved the lives of all mankind" (5:32)✨
Surrey: Sunday November 6
Doors Open: 5PM
Event Start: 6PM
Location: Aria Banquet Hall
10 Years of Devastation in Syria
The Prophet (PBUH) said "Visit ash-Shaam, for it is Allah's chosen land, to which He will gather His chosen slaves… Allah has promised me that He will take care of ash-Shaam and its people." Narrated by Abu Daawood (2483).
For the past 10 years, the brutal conflict in Syria has left millions of people displaced, living in constant fear, hunger and suffering. They must not be forgotten.
Today, more than 11 million people within Syria are in need of humanitarian aid. Many of them are orphans, widows and elderly who cannot wait any longer.
As winter approaches, your support is needed to help us construct permanent shelters for displaced Syrians. Your donations will provide families with a dignified home, InShahAllah.
Islamic Relief Canada is on the ground now in Syria
Islamic Relief has been on the ground for over 18 years in Syria. As one of the largest aid organizations still operating in northern Syria, the generosity of our supporters means Islamic Relief remains as a lifeline for many. Through our shared global efforts in the past year, Islamic Relief has provided food to over 770,000 displaced people, vital healthcare support to 1.2 million people and medical necessities to 84 health facilities.
---
Location:
Aria Banquet Hall
12350 Pattullo Place
Surrey , British Columbia V3V 8C3 Canada
+ Google Map

---
More upcoming events