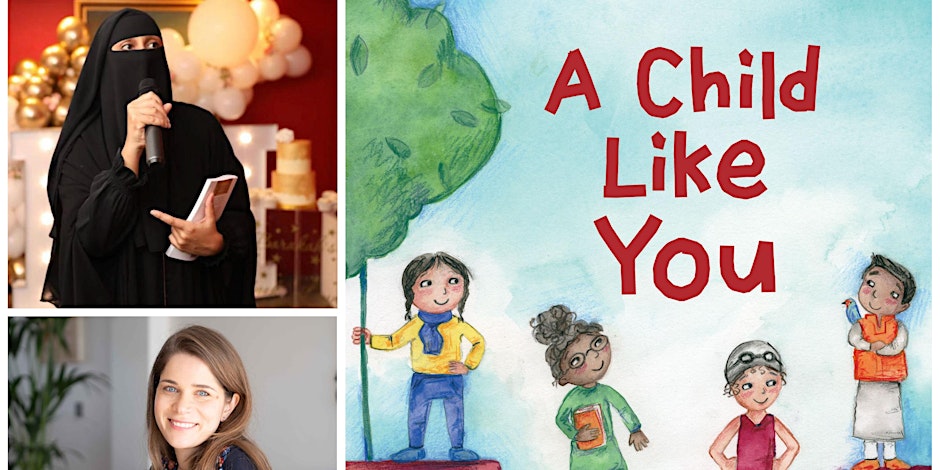 Description:
Otter Barry Books & Just Imagine invite you to an evening with Na'ima B. Robert & Nadine Kaadan to launch A Child Like You.
Na'ima & Nadine will be in conversation with Nikki Gamble
Date: 18th April 2023
Time: 7.00 – 8.00 pm
Venue: Online
Cost: Free
This event is for adults but children may watch with you.
About Na'ima B. Robert
Na'ima B Robert is an author of multicultural literature and founding editor of the UK-based Muslim women's publication, SISTERS Magazine. Born in Leeds to a Scottish father and Zulu mother, both from South Africa, Robert grew up in Zimbabwe and attended university in England. She converted to Islam in 1998.
About Nadine Kaadan
Nadine Kaadan is a Syrian children's book illustrator and writer living in London. She has published 15 books, including stories celebrating the Arab world. Her mission is to champion empowered and inclusive representation in children's books so that every child can see themselves in a story.
About A Child Like You
Four brave children watch, listen, search, and feel, as they experience the inequalities, dangers and injustices of life in our world. Inspired by real-life activists and campaigners Greta Thunberg, Yusra Mardini, Marley Dias and Iqbal Masih, each of these children is filled with courage, determination and hope. They campaign to help save the planet, show that refugees can contribute and show leadership in sport in their new land, they build a library of 1000 books depicting black girls, they speak out against the outrage of child slavery.
Lyrical and powerful, this book is a passionate call to children everywhere to speak their truth and stand up for a better world.
About Nikki Gamble
Nikki has 40 years of experience in education as a teacher and teacher educator, providing literacy training and resources for schools. She has worked extensively in schools across the UK and internationally. She is the author of Exploring Children's Literature (4th edit) (2019) Co-author of Guiding Readers (2016) and Poetry by Heart. Nikki has been a KS2 reading advisor and series consultant for Oxford University Press and content creator for the Oxford School Improvement and Oxford Owl websites. Nikki is currently developing new literary projects under the Exploring Children's Literature banner.
Book Purchase
This is a free event. You can support us by purchasing a copy of the book from bestbooksforschools.com Books can be preordered at a discounted price:
RRP £12.99
Our Price £9.60
Postage is free on all orders over £15
---
---
More upcoming events