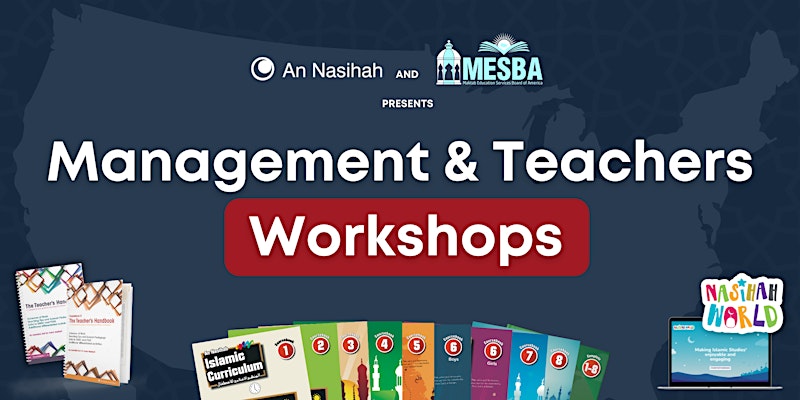 Description:
An Nasihah in collaboration with MESBA is pleased to announce a workshop available to teachers and management.
Masjid/Islamic School Management
An introduction to a comprehensive Islamic studies curriculum and system currently being implemented in more than 1000 institutions globally (UK, USA, Canada, Australia, Europe, Africa, Asia, Middle East).
Teacher Workshops
This accredited workshop followed by certificates for participants will enhance the skills of teachers in Islamic schools, Weekend Schools, and Maktabs.
Each workshop will comprise of 2 sessions:
𝟭. 𝗘𝗳𝗳𝗲𝗰𝘁𝗶𝘃𝗲 𝗧𝗲𝗮𝗰𝗵𝗶𝗻𝗴 𝗠𝗲𝘁𝗵𝗼𝗱𝗼𝗹𝗼𝗴𝗶𝗲𝘀
This session will provide teachers with an insight into recognized and successful teaching tips and Sunnah Pedagogy through an interactive workshop.
𝗧𝗼𝗽𝗶𝗰𝘀 𝗖𝗼𝘃𝗲𝗿𝗲𝗱:
The mindset of the teacher
Planning and Delivery
Methods of assessment.
𝟮. 𝗕𝗲𝗵𝗮𝘃𝗶𝗼𝗿 𝗠𝗮𝗻𝗮𝗴𝗲𝗺𝗲𝗻𝘁
This session is aimed at providing teachers with an understanding of successful techniques into preventing and dealing with misbehavior.
𝗧𝗼𝗽𝗶𝗰𝘀 𝗖𝗼𝘃𝗲𝗿𝗲𝗱:
Understanding the causes of misbehavior
Preventing Misbehavior
Dealing with misbehaving pupils
Sessions will be interactive and open to Q&A
Registration is necessary so attendees can be awarded with a digital certificate of attendance which will be emailed after the event in sha Allah.
Each member should register separately.
Facilities for Brothers and Sisters.
This training session is open to all teachers, whether you are using the An Nasihah Syllabus or not.
To learn more, please visit our website at an-nasihah.com and mesba.org
---
Location:
Jamaat Ibad Ar-Rahman
5122 Revere Road
Durham , North Carolina 27713 United States
+ Google Map

---
More upcoming events