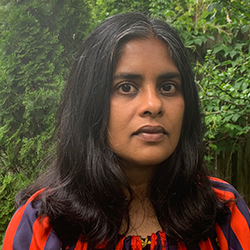 Contributed By:
events coordinator
Organizing Institution:
Institute for the Study of Islamic Thought in Africa (ISITA)
Contact Name:
Rebecca Shereikis
Contact email:
[email protected]
Start Date:
May 10, 2022 (01:00pm CT)
End Date:
May 10, 2022
Cost:
Free
Website:
https://planitpurple.northwestern.edu/event/586719
Kresge Hall – Evanston – Illinois – United States
Description:
This is a hybrid event.
No registration is needed to attend in person.
Register here to attend by Zoom.
An Uneasy Embrace: Africans, Indians, and the Ahmadiyya Movement in Islam
Join ISITA for a talk by Shobana Shankar (history, Stony Brook University), drawing from her recent book, An Uneasy Embrace: Africa, India, and the Spectre of Race (Oxford University Press, 2021).
About the Speaker
Shobana Shankar is a professor of history at Stony Brook University. She is the author of Who Shall Enter Paradise? Christian Origins in Muslim Northern Nigeria, c. 1890–1975 (Ohio University Press, 2014); and co-editor of Religions on the Move! (Brill, 2013) and Transforming Africa's Religious Landscapes: The Sudan Interior Mission (SIM), Past and Present (Africa World Press, 2018).

---
Location:
Kresge Hall
1515, 1880 Campus Drive
Evanston , Illinois 60208 United States
+ Google Map

---
More upcoming events