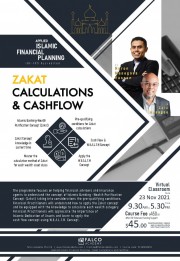 Contributed By:
events coordinator
Organizing Institution:
IslamicEvents.SG
Start Date:
November 23, 2021 (9:30am)
End Date:
November 23, 2021 (5:30am)
Cost:
$45 (After IBF Funding) | $450 (Non-IBF Funded)
Website:
https://islamicevents.sg/event/8882
– ---
Description:
Are you a Financial Planner / Wealth Advisor that has Muslim clients?
Are you looking to gain more knowledge that can add more value to your Muslim clients?
Other than the normal financial instruments such as insurance, short and long term investments, how else can you help your Muslim clients be more financially savvy and yet be more God-conscious?
Introducing "Applied Islamic Finance Planning" Course
A 4 days course ( 8 hours per day – total: 32 hours ) online in Zoom with our experience Islamic financial practitioners in Singapore.
What is this course all about?
Financial planning is a major component in Muamalat (commercial transactions) that form one of the chapters in Fiqh (Islamic Jurisprudence).  The importance of Islamic financial planning should not be undermined because Shariah principles encompass a Muslim's way of life, and Muslims are obligated to follow these principles; in Ibadah (religious rituals), Munakahat (family law), Jinayat (crime) and Muamalat.
Islamic financial planning has the same objectives as conventional financial plans – to help people accumulate, protect and distribute their wealth.  The difference is that an Islamic financial plan is grounded in accordance with Islamic values and principles.
At the end of this course, you will be able to comprehend and apply the principles of Shariah appropriately in planning your finances in all five areas of focus:
Wealth Maintenance (money and tax management planning),
Wealth Enhancement (investment planning),
Wealth Protection (insurance planning),
Wealth Accumulation (retirement planning) and
Wealth Distribution (estate planning).
Content Outline:
Definition of Islamic Banking- Wealth Purification-Zakat
Five pre-requisites about wealth prior to Zakat Calculations
Categories of recipients of Zakat and still applicable in the present time
Islamic Wealth Banking Concepts in relation to the obligations of Zakat
Calculation method using Islamic Banking Concept -Zakat on each asset class e.g., Saving, Gold, Shares. Insurance etc
Concept on Islamic Banking Approach towards – Dedication of Assets
Common methods for Islamic approach for Dedication of Assets
Cash Flow Concept using W.E.A.L.T.H
Why What and How to apply W.E.A.L.T.H
Click the link to register now! – https://tinyurl.com/yadcjb32
Details
Venue: Online
– Registered participants will be invited into the Zoom session.
– Do check your email for the link  4 hours before the session start.
Day/Date: Tuesday, 23 November 2021
Time : 9:30am to 5:30pm (Lesson + Q&A)
Fees: Recordings shared is subject to Islamicevents terms and conditions.
$450 (Non – IBF Funded. Non – MAS Licensee holder)
$45* (After Enhanced IBF Funding Support. For MAS Licensee / Financial Practitioner.) Click here to know more if you are qualified for the IBF funding)
Terms & Conditions
– Full Payments are to be made before the Course starts.
– NO REFUND for participants that fail to attend the Course. Ensure you can commit to the course timings.
– Participants will be given Notes. You will have to download from the link given nearer to the course dates.
– The organizer has the right to make changes to the schedule or cancel the course. Participants will be informed in advance of changes.
Our HOTLINE @ 9002 5749 operates during office hours.
Office operating hour is from Monday to Friday, 10.30 am to 6.30 pm.

---
---
More upcoming events