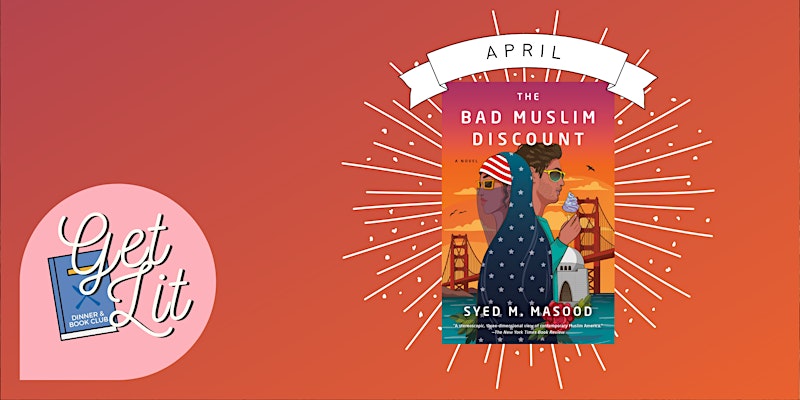 Description:
Monthly book club meeting!
APRIL PICK: The Bad Muslim Discount by Syed M. Masood
Tuesday, April 19 & Wednesday, April 20
6:15 p.m. | Meet-and-greet
6:30 p.m. dinner & discussion | The Junction
3-course dinner from The Junction | $55 (includes drink pairings, tax, and tip)
Join us at The Junction to discuss The Bad Muslim Discount by Syed M. Masood. Attendees must purchase a dinner ticket to attend; there are 35 spots for each night available for in-person seating.
Every month we gather to discuss the book over an original, three-course meal with drink pairings inspired by the book. Purchase your dinner ticket to let us know you'll be coming!
A note about COVID concerns: While we plan to have April's meeting in person, we will be ready to pivot to either outdoor dining or virtual meeting with to-go meals if COVID guidelines change between now and April 19. Please also note the update to our refund policy below.
Find a copy from the bookstore or order online:
Paperback | $17.00
Ebook | $13.99
Audiobook | $31.50 (or membership)
The Fine Print
Book Orders: If you are purchasing the book through Eventbrite, Please reach out to Itinerant Literate for book pickup instructions: [email protected] or (843) 225-6569.
Refund Policy: Refunds will be granted up to the Sunday before the event. After this time, the Junction has begun preparation for the dinner and cannot grant refunds for the costs. Credits may be given on a case-by-case basis.
Transfer policy: Attendees can transfer their Tuesday night ticket to Wednesday night or vice versa if scheduling conflicts arise. If a transfer occurs within 12 hours of the event, please reach out to Itinerant Literate at [email protected] or (843) 225-6569 to notify organizers of the change.
About the Book:
Following two families from Pakistan and Iraq in the 1990s to San Francisco in 2016, The Bad Muslim Discount is an inclusive, comic novel about Muslim immigrants finding their way in modern America.
It is 1995, and Anvar Faris is a restless, rebellious, and sharp-tongued boy doing his best to grow up in Karachi, Pakistan. As fundamentalism takes root within the social order and the zealots next door attempt to make Islam great again, his family decides, not quite unanimously, to start life over in California. Ironically, Anvar's deeply devout mother and his model-Muslim brother adjust easily to life in America, while his fun-loving father can't find anyone he relates to. For his part, Anvar fully commits to being a bad Muslim.
At the same time, thousands of miles away, Safwa, a young girl living in war-torn Baghdad with her grief-stricken, conservative father will find a very different and far more dangerous path to America. When Anvar's and Safwa's worlds collide as two remarkable, strong-willed adults, their contradictory, intertwined fates will rock their community, and families, to their core.
With deep insight, warmth, and an irreverent sense of humor, Syed M. Masood's The Bad Muslim Discount examines universal questions of identity, faith (or lack thereof), and belonging.
---
Location:
The Junction Kitchen & Provisions
4438 Spruill Avenue
North Charleston , South Carolina 29405 United States
+ Google Map

---
More upcoming events