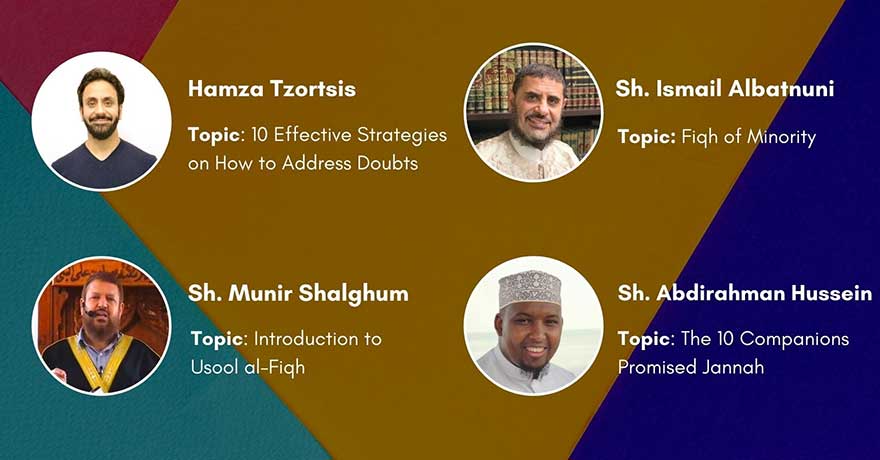 Description:
We have great news to share with you!
Mark your calendars for Dec. 30 – January 3 for the return of our Intensive Islamic Knowledge Program.
This intensive program is designed for those seeking knowledge about Islamic principles. Here are the subjects that will be covered:
No Doubt: 10 Effective Strategies on How to Address your and other people's Doubts by Hamza Tzortzis
Fiqh of Minority by Shaykh Ismail Albatnuni
Introduction to Usool al-Fiqh by Shaykh Munir Shalghum
The Ten Companions Who Were Promised Paradise by Shaykh Abdirahman Hussein
Not only will you benefit from the incredible knowledge taught in this program, but by registering you will also receive:
PDF course booklet
A certificate of attendance
A chance to write an exam and compete for prizes
Here are the details:
Dates: December 30 to January 3
Time: 3:00 PM to 9:00 PM each day
Location: In-person and online
(Note: if you join us in-person at the masjid you will be asked to show proof of vaccination)
Age: Recommended age is 14+
Cost: Only $45 per student for the entire program
To register for this incredible program you can click on the button below. Don't forget to invite your friends and family to join!
We are also looking for volunteers to help us with this 5-day program. If you would like to join our volunteer team please fill out online here
---
---
More upcoming events