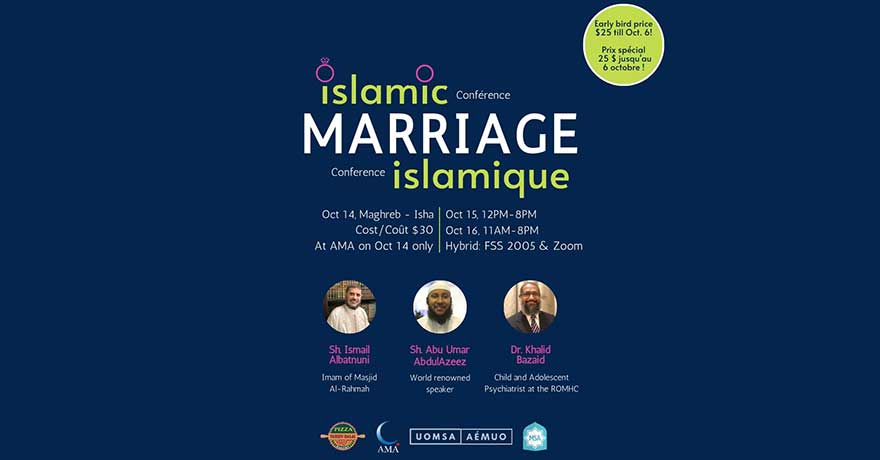 Description:
Are you looking to tie the knot or hoping to take your marriage to the next level? Look no further as you're in the right place!
We are proud to present an Islamic Marriage Conference to provide an in-depth look into one of the beautiful aspects of our deen: marriage.
This incredible course will be taught by:
Shaykh Abu Umar Abdulazeez, world-renowned speaker
Shaykh Ismail Albatnuni, Imam of Masjid Ar-Rahmah
Dr. Khalid Bazaid, Child and Adolescent Psychiatrist at Royal Ottawa Mental Health Centre
In this course, you will learn about all the building blocks to build a successful marriage.
Here is a sneak peek into what will be covered in this course:
Introduction to married life starting after the Wedding day
The fiqh of marriage
How to resolve spousal conflict?
Understanding the psychological aspect of married life
… and so much more!
There will also be a Q and A session to answer any burning questions you may have.
For a limited time only, you can purchase your discounted early bird tickets for $25!
Here are the Details:
Date and Time:
Friday, October 14 after Maghreb prayer at 

AMA

 Community Centre or Virtual via Zoom (opening lecture)
Saturday, October 15 from 12:00 PM to 8:00 PM at the University of Ottawa or Virtual via Zoom
Sunday, October 16 from 11:00 AM to 7:00 PM at the University of Ottawa or Virtual via Zoom
Location: In-person or Virtual via Zoom
Early Bird Ticket Price: $25 (early bird ends on October 6)
Regular Price: $30
A course like this doesn't come around often with a speaker like this so you definitely won't want to miss out. We look forward to seeing you!
Don't forget to invite your friends and family so they can benefit from this course, as well.
This program is organized in collaboration with all of these partners:
AMA

 Centre
University of Ottawa Muslim Student 

Association

Carleton University Muslim Student 

Association
---
---
More upcoming events