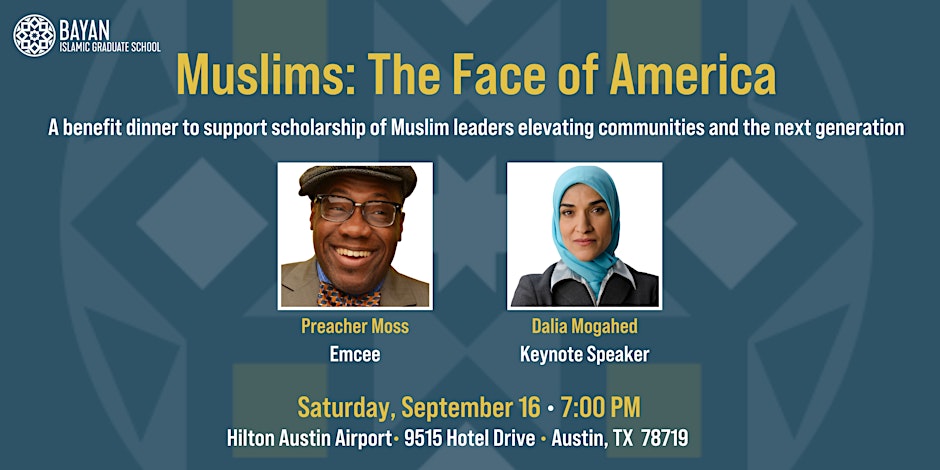 Description:
To become a sponsor, please visit bayanonline.org/sponsor.
Please attend this benefit gala to support Bayan students on scholarships and learn more about Bayan's offerings and to communities like Austin.
In this event you will hear from the keynote speaker, Dalia Mogahed and better understand Bayan through it's students residing in your home city of Austin.
For more information, please contact Ayman Taleb at [email protected]
A special thank you to the host committee:
Shaza Khan
Bayan Alumni in Austin
Ahmed Akid | Class of 2020
'Alima Moosa | Class of 2023
Featuring:
Keynote Speaker: Dalia Mogahed
Dalia Mogahed is the Director of Research at the Institute for Social Policy and Understanding, where she leads the organization's pioneering research and thought leadership programs on American Muslims. Mogahed is former Executive Director of the Gallup Center for Muslim Studies, where she led the analysis of surveys of Muslim communities worldwide. With John L. Esposito, she co-authored the book Who Speaks for Islam? What a Billion Muslims Really Think. President Barack Obama appointed Mogahed to the President's Advisory Council on Faith-Based and Neighborhood Partnerships in 2009. She was invited to testify before the U.S. Senate Committee on Foreign Relations about U.S. engagement with Muslim communities. Her 2016 TED talk was named one of the top TED talks that year. She is a frequent expert commentator in global media outlets and international forums. She is also the CEO of Mogahed Consulting.
Emcee: Preacher Moss
Preacher Moss is an American stand-up comedian and writer. As the "First Muslim Comedy Scholar," Preacher Moss is Bayan alumni and an Experienced Founder with a demonstrated history of working in the entertainment industry. Preacher moss is the founder of "Allah Made Me Funny" The Official Muslim comedy Tour which currently enters it's 20th year.
About Bayan:
Bayan (www.bayanonline.org) is a non-sectarian Islamic institution of higher education that offers accredited graduate degrees in Islamic Studies and Islamic Chaplaincy. Its mission is to offer a world class education that produces dynamic leaders and scholars grounded in the Islamic tradition.
Since opening in 2011, 81 students have graduated from Bayan and with an expected enrollment that exceeds 100 students in 2023 for the first time ever. Bayan's focus is to develop the next generation of Muslim American leaders who will serve as chaplains, imams, educators, and community leaders who make an impact in their communities. Bayan also prepares its graduates to help instill a commitment to Islam among our youth.
---
Location:
Hilton Austin Airport
9515 Hotel Drive
Austin , Texas 78719 United States
+ Google Map

---
More upcoming events