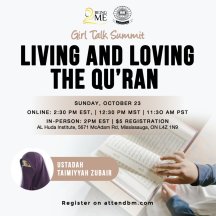 Contributed By:
events coordinator
Organizing Institution:
Being ME - Muslimah Empowered Ottawa
Contact email:
[email protected]
Start Date:
October 23, 2022 (2:00pm)
End Date:
October 23, 2022 (5:00pm EDT)
Cost:
$0 (online) - $5 (in-person)
Website:
https://www.tickettailor.com/events/beingme/775337/
AL Huda Institution, – Mississauga – Canada
Description:
Being ME Canada and Al Huda Canada present:
The Girl Talk Summit
⭐️Title: Living and Loving the Qu'ran
🎙️ Speaker: Ustadah Taimiyyah Zubair
🗓 Date: Sunday October 23, 2022
⏰Time: Online 2:30 pm EST/ 12:30 pm MST/ 11:30 am PST_
⏰Time: In-person registration: 2:00 pm EST
Description:
💫How does reading about Allah ﷻ protecting Ayesha radhi Allahu anha from slander 1500 years ago help me today?
💫How can reading about what Pharaoh did thousands of years ago solve my problems today?
💫How can the words sent down almost 1500 years ago benefit us today?
---
Location:
AL Huda Institution,
5671 McAdam Rd
Mississauga , Ontario L4Z 1N9 Canada
+ Google Map

---
More upcoming events