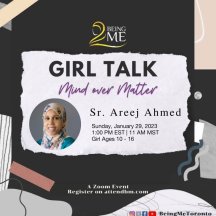 Description:
Being ME Canada presents:
Girl Talk Monthly Session
Mind Over Matter
Speaker: Sr. Areej Ahmed
Date: January 29, 2023
Time:  1 pm EST / 11 am MST / 10 am PST
Program Description:
What does it really mean when people say you can achieve anything you put your mind to?
About Girl Talk:
Empowering Muslim Girls with sound knowledge of the Deen, character development skills, and core competencies to become Leaders of self and others within the community.
Visit attendbm.com to register for this private zoom session!
Sign Up Today
Limited spots
For ages 10 to 16 years old
——————————–
Speaker Bio:
Areej Ahmed is a nurse, educator, Quran teacher and entrepreneur.
She is the founder of Virtual Madrassa an online program for young Muslims to learn Islam and Quran.
Areej teaches from self-development to health and wellness. She has been teaching various workshops from nursing courses, CPR, stop the bleed, infection control, self-defence, mindset mastery, Islam and Quran recitation.
---
---
More upcoming events