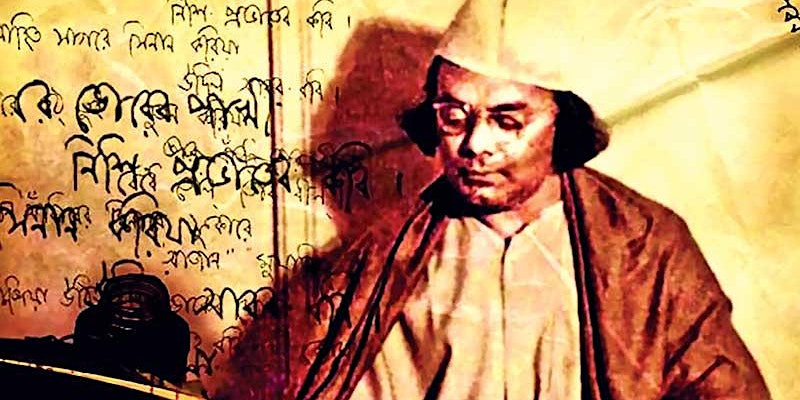 Description:
A 50-minute show for young people featuring music, storytelling and song that explores the life of poet, Nazrul Islam (Kazi Nuzrul Islam).
This show for families and young people will explore the life of Nazrul Islam (Kazi Nuzrul Islam) who was born 24th May 1899 in Asansol, India. He was a prolific writer, poet, musician (often referred to as The Rebel) whose collection of 4,000 songs, poetries, and writings form what is considered the embodiment of Bengali culture and a historical pathway bringing Bengali literature to the modern era. He was a deeply spiritual man who fought for human rights and equality for everyone. He detested the hypocracies and inequalities which permeated the land and politics of his time. He used his literary talents to support the liberation of Indian Independence, for which the British imprisoned him. He is highly revered and cherished in India and Bangladesh, where he is the National Poet. As a young boy, he was poor, and had to struggle to be educated but he took interest in wider worldly concerns and languages and literary forms such as Persian, Sanskrit, and Urdu and religions. He served in the closing days of WW1 as an ambulance driver. He married into unorthodox Hindu family for which he and his wife Pramila Devi were derided and hounded. He battled through illness and even attended clinic in Vienna where his friends sent him to recover. His treasure house of poetry and music resound as timeless legacy of truth and beauty.
Produced and presented by Tamarind Theatre Co Ltd.
Please note: By booking a ticket you agree to share your data for evaluation and audience purposes with the creative company presenting the event. This permission does not include the right for the creative company to share your data with any other parties.
If there are any restrictions on the presentation of live events at the time of the festival all tickets we will offer a web-stream or online alternative where possible. In this instance, all tickets will automatically be transferred to the digital events. If some events cannot go ahead and have to be cancelled refunds will be offered subject to Eventbrite and our box office partners' terms.
---
Location:
Library, Conway Hall
25 Red Lion Square
London , WC1R 4RL United Kingdom
+ Google Map

---
More upcoming events