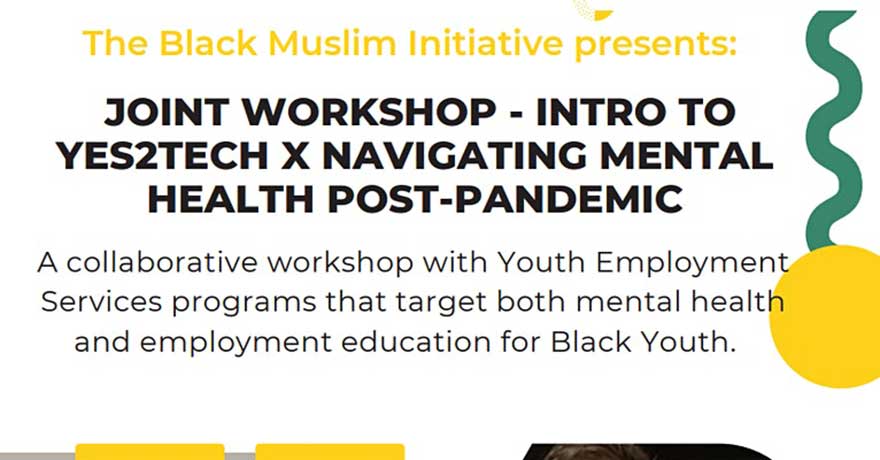 Description:
A collaborative workshop with Youth Employment Services programs that target both mental health and employment education for Black Youth.
Youth Employment Services leads accessible youth-focused programs and services for individuals from vulnerable communities. YES's Employment services have a 90% success rate that directly employs many youths across Canada.
YES is a champion leader of multiple programs targeted towards a range of different professions including but not limited to YES2Tech, The Lighthouse Program, BizStart, YES Career Accelerated Program, and more!
This is going to be the Black Muslim Initiative's FINAL session for the year, so we decided to incorporate both concepts these workshops were focused on, employment and mental health. The session we have scheduled is going to give insight into two of the programs currently run at YES which are YES2Tech, an intro to the tech world for Black Youth. As well as Lighthouse Program which is going to focus on mental health in a post-pandemic era.
Our speakers for this session both run programs at YES dedicated to youth learning and empowerment.
Robert is a program manager at Youth Employment Services YES, and oversees the operation of two employment and wellness-focused programs: The 'Lighthouse Project' and 'This Way Onward.' The Lighthouse project assists people that identify with mental health as a barrier to their employment. Robert has 7 years of experience in the non-profit and for-profit employment sector and has extensive experience with mental health and wellness supports, pre-employment training, and curriculum development. Robert has presented at several speaking engagements to service providers and employers on the benefits of hiring youth with mental health issues and empowering the employment sector to serve youth with mental health issues.
Shari Raghoo is an advocate for youth, families, and communities across the GTA, having worked diligently throughout her career to support community members experiencing barriers to opportunities and resources. At YES, she manages the Tech Workforce Development Programs, which consists of YES2 Tech, YES 2 Tech Learn & Earn, and YES2Cloud. Shari is experienced in program start-up, delivery, outreach, evaluation, and volunteer & event coordination. Working from an anti-oppressive lens, Shari ensures to meet youth where they are at and empowers them to reach their full potential. Shari holds an HBA in Sociology from the University of Toronto, as well as a Diploma in Community Work Outreach and Development from Sheridan College. She is currently pursuing her Project Management Professional certification through UofT's School of Continuing studies.
Join us for an informative session on November 29th from 3-4pm.
Zoom links will be sent out upon registration! We hope to see you all soon.
---
---
More upcoming events