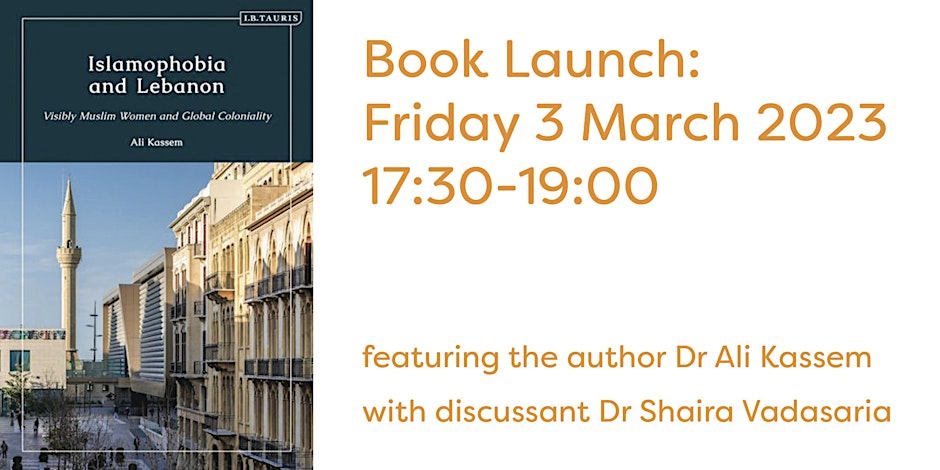 Description:
Friday 10 March, 17:30–18:30 followed by a drinks reception in the IASH Seminar Room, Hope Park Square
Islamophobia and Lebanon: Visibly Muslim Women and Global Coloniality (I.B. Tauris – Bloomsbury Academic 2023) by Dr Ali Kassem
Thinking through anti-, post-, and decolonial theories, this book examines, analyses, and conceptualises 'visibly Muslim' Lebanese women's lived experiences of discrimination, assault, wounding, and erasure. Based on in-depth research alongside over 100 Sunni and Shia participants between 2017 and 2019, it situates these experiences at the intersection of the local and the global and argues for their conceptualisation as a form of structural and lived anti-Muslim racism. In doing this, it discusses the convergences and divergences of anti-Muslim racism in Lebanon with anti-Muslim racism in other parts of both the global north and the global south.
Dr Ali Kassem is a Lecturer in Sociology at the National University of Singapore. He was an IASH-Alwaleed Postdoctoral Fellow at the Institute for Advanced Studies in the Humanities at the University of Edinburgh in 2021-22 associated with the Institute Project on Decoloniality (IPD '24). During 2020-21, he was postdoctoral research fellow with the Arab Council for the Social Sciences and the Carnegie Corporation of New York with an affiliation to the Beirut Urban Lab at the American University of Beirut (AUB). Ali received his PhD in 2020 from the School of Law, Politics, and Sociology at the University of Sussex and held teaching appointments at Sussex between 2018-21. He has also previously held research and/or teaching positions at the Ludwig-Maximillian University in Munich, the Ecole Des Hautes Etudes en Sciences Sociales (EHESS) in Paris, AUB, the Lebanese Centre for Policy Studies, the Lebanese American University, and others. His main interests are in Post-, anti-, and decolonial work, ethnic and racial studies, inequalities, Islam and Knowledge making on which Ali has published multiple peer-reviewed and non-academic articles and essays.
This event is presented by IASH, the Alwaleed Centre and RACE.ED.
Register at https://alikassem.eventbrite.co.uk.
---
Location:
ASH The Institute for Advanced Studies in the Humanities
2 Hope Park Square
Edinburgh , EH8 9NW United Kingdom
+ Google Map

---
More upcoming events