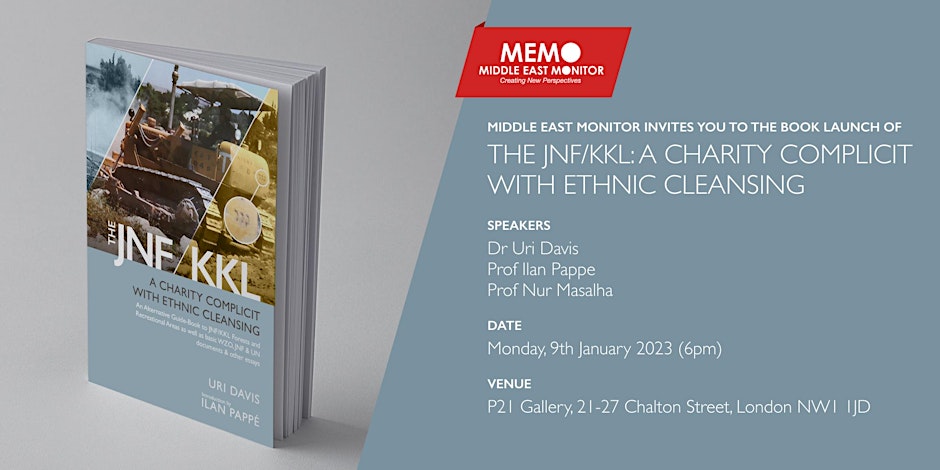 Description:
Middle East Monitor invites you to the book launch of JNF/KKL: A Charity Complicit With Ethnic Cleansing.
The event will include a panel discussion featuring the book's author Dr Uri Davis, and guest speaker Prof Nur Masalha.
An Alternative Guide-Book to JNF/KKL Forests and Recreational Areas as well as basic WZO, JNF & UN documents & other essays.
"It is an exposure of what really lies behind the past, present and future actions of the JNF. But more than anything else, it is an incisive exploration of the crimes Israel committed against the Palestinians and which still today are at best misrepresented and at worst denied outside the state of Israel. This book will be one of the best tools for those wishing to confront these misrepresentation and denial for the sake of peace and justice in the land of Palestine." Ilan Pappé
A book signing session will be held with Dr Uri Davis.
Join us for free on Monday, 9 January 2023 at 6pm (UK), in person near Euston.
Reserving a ticket does not guarantee entrance. Seats are allocated on a first-come-first-serve basis – once capacity is reached, we will not be allowing any further entries.
—
Dr Uri Davis is an anti-Zionist Palestinian of the Hebrew language group, citizen of the alleged constitutional monarchy of the UK and of the apartheid State of Israel, born in Jerusalem in 1943. He has been at the forefront of the defence of human rights in Israel, notably Palestinian rights, since 1965 and as an academic and independent researcher he has pioneered critical research on Zionism and the State of Israel since the mid-1970.
Professor Ilan Pappé obtained his BA degree from the Hebrew University in Jerusalem in 1979 and the D. Phil from the University of Oxford in 1984.
---
Location:
P21 Gallery
21-27 Chalton Street
London , NW1 1JD United Kingdom
+ Google Map

---
More upcoming events