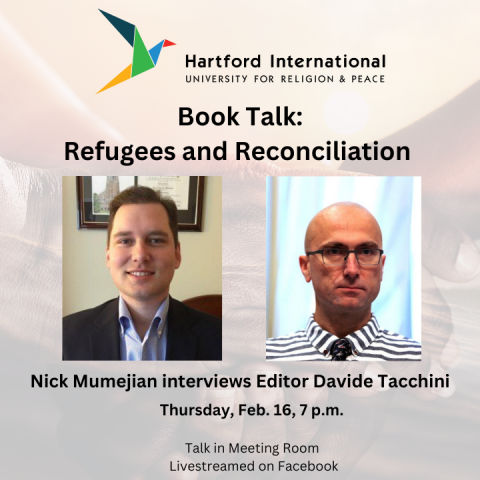 Description:
Editor Davide Tacchini talks about the book Reconciliation and Refugees: The Academic Alliance for Reconciliation Studies in the Middle East and North Africa.
Event can be live-streamed here: https://www.facebook.com/hartfordinternational
Dr. Davide Tacchini is currently Research Fellow and Coordinator of the PhD program "Religion, Conflict, and Reconciliation" at the Jena Center for Reconciliation Studies, Friedrich-Schiller-Universität, Jena, Germany and Adjunct Professor of Arabic Language and Literature at the University of Parma, Italy. His current research interests include Reconciliation and Migration, Religion and Reconciliation, Reconciliation in the Qur'an and the Muslim Tradition. Among his recent publications: "Reconciliation and Refugees", 2022 (with Barakat, Z., Leiner, M., Dajani, I., Eds), "Islam and Democracy, Muslim Voices Amongst Us" (2019, with the Hon. Amédée Turner), "Migration and Reconciliation in the 21st Century", (ASR 13) 2020.
---
Location:
Hartford International University for Religion and Peace
77 Sherman Street
Hartford , Connecticut 06105 United States
+ Google Map

---
More upcoming events