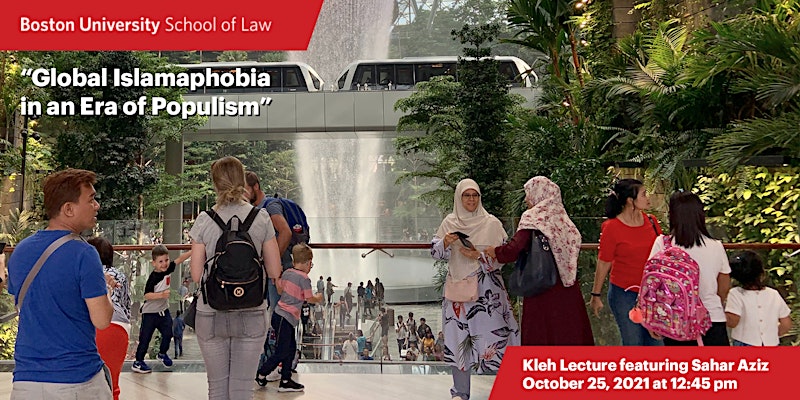 Description:
BU Law Visiting Kleh Professor delivers a lecture on "Global Islamaphobia in an Era of Populism."
Kleh Lecture featuring Sahar Aziz
"Global Islamophobia in an Era of Populism"
Monday, October 25th, 2021 12:45 – 2pm
Boston University School of Law
Location: 765 Commonwealth Avenue, Barristers Hall (for BU faculty, students, and staff)
Virtual location: Zoom link to be provided (open to all)
Myriad political, social, and economic contexts contribute toward Islamophobia and consequent normalization of anti-Muslim racism in various parts of the world. Simultaneous to the rise in global Islamophobia is the rise of right-wing populism, especially in Western nations. Whether it is in the form of right-wing political parties in Europe, Trumpism in the United States, concentration camps for Uighurs in China, the genocide of the Rohingya in Myanmar, or the Hindutva movement in India, Muslims are perceived by the state and the public as security, political, or economic threats. The widespread scapegoating of Muslims in so many parts of the world warrants a global analysis currently lacking in the academic discourse.
Professor Aziz's lecture will explore the political, social, and legal factors in North America, Europe, and Asia in nations where Islamophobia has reached systemic levels to understand Islamophobia as an entrenched international human rights issue, as opposed to an isolated temporal social problem.
Please note that the panel discussion will be held in person for Boston University faculty, students, and staff. Attendees will be required to present their green badge at the door to Barristers Hall. At this time, we cannot welcome other guests due to the University's public health protocols.
About the Speaker
Sahar Aziz joins BU Law in the fall 2021 as the William & Patricia Kleh Visiting Professor in International Law. She is a faculty member at Rutgers Law School, where she also serves as Chancellor's Social Justice Scholar and Middle East Legal Studies Scholar, as well as the founding director of the Rutgers Center for Security, Race, and Rights.
For more information about our speaker, please visit our article in the Record.
---
Location:
Boston University School of Law
765 Commonwealth Avenue Barristers Hall
Boston , Massachusetts 02215 United States
+ Google Map

---
More upcoming events