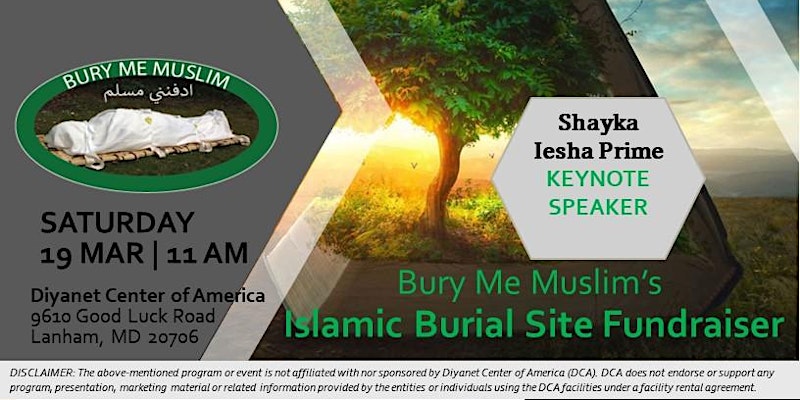 Description:
Bury Me Muslim Needs Your Support for its Islam Burial Site Project… We Speak for those who no longer Speak for themselves…
Bury Me Muslim has begun the process for the purchase of Muslim burial grounds to accommodate approximately 299 plots. But we need your help. Please donate to assist with this much-needed opportunity.
SATURDAY, MARCH 19, 2022 (11:00am – 3:00pm)
Diyanet Center of America, 9610 Good Luck Road, Lanham, MD 20706
KEYNOTE SPEAKER: Shaykh Iesha Prime
Ticket cost: $50 (Age 16+)
Unfortunately, we cannot accommodate children at this event.
For More Details, Visit: www.burymemuslim.com
DISCLAIMER: The above-mentioned program or event is not affiliated with nor sponsored by the Diyanet Center of America (DCA). DCA does not endorse or support any program, presentation, marketing material, or related information provided by the entities or individuals using the DCA facilities under a facility rental agreement.
On Sale Jan 31 at 12:00 PM
---
Location:
Diyanet Center of America
9610 Good Luck Road
Lanham , Maryland 20706 United States
+ Google Map

---
More upcoming events