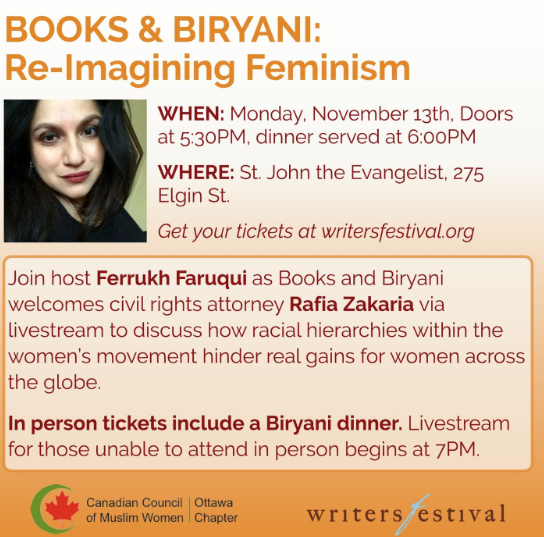 Description:
Join host Ferrukh Faruqui as Books and Biryani welcomes civil rights attorney Rafia Zakaria to discuss how racial hierarchies within the women's movement hinder real gains for women across the globe.
In person tickets include a Biryani dinner. Livestream for those unable to attend in person begins at 7PM.
A self-described "trouble-making brown feminist," Zakaria challenges us to flip the narrative of feminism by making space for Black, Brown, and Asian voices. In 2021, this columnist for the Pakistani English daily Dawn published Against White Feminism: Notes on Disruption. Her incendiary call to re-politicize feminism details how systemic "whiteness" empowered both the colonial memsahibs of British India and fuels the modern rise of "securo-feminism," by which the war on terror reframes itself as a Western struggle to rescue oppressed brown women, Afghan or otherwise. In another chapter she skewers sexual liberation as simple market capitalism which reduces feminism to a brand and calls out the oppression of "compulsory sexuality." Survivor, scholar, and activist, Zakaria's street cred and legal bona fides power through this gutsy polemic that dares to both name the erasure of minority voices within the sisterhood and to welcome every one of us back in.
The Canadian Council of Muslim Women is a national non-profit founded in 1982 by equity-seeking Muslim women across Canada. CCMW-Ottawa is a volunteer run group focused on social justice. This is the 20th iteration of B and B, where food and words meet and mingle in a rousing exchange of ideas.
---
Location:
St John Anglican Church
325 Sandhill Road
Ottawa , Ontario k2k1x7 Canada
+ Google Map

---
More upcoming events