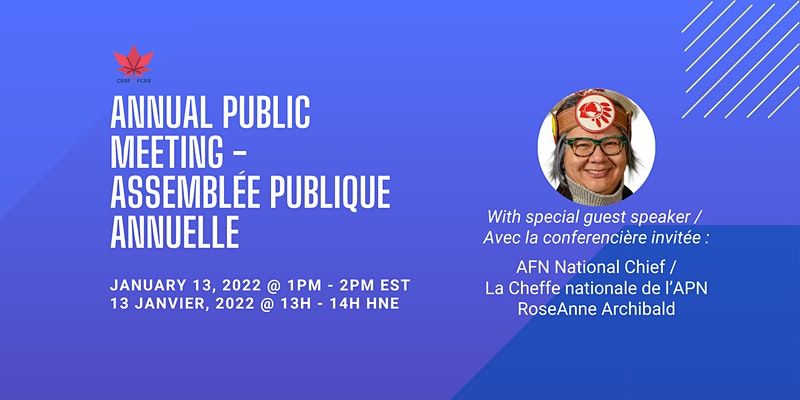 Description:
CRRF's Annual Public Meeting / L'Assemblée publique annuelle de la FCRR
The Canadian Race Relations Foundation (CRRF) will host its Annual Public Meeting (APM) on Thursday, January 13, at 1 PM, Eastern Daylight Time.
The APM is an opportunity for CRRF to provide an overview of its accomplishments over the past year and an outline of its priorities for the year to come, as well as an occasion for members of the public to ask questions.
Agenda for the Annual Public Meeting
Welcome & opening remarks
Highlights of CRRF's activities
Financial presentation by the Chair of the Finance & Audit Committee and the Director of Finance and Administration
A conversation with Assembly of First Nations National Chief, RoseAnne Archibald
Feedback from the public and Q & A
Closing remarks
Guest speaker biography: RoseAnne Archibald, AFN National Chief
AFN National Chief RoseAnne Archibald of Taykwa Tagamou Nation, is a strength-based and heart-centered leader, with 31 years of experience in First Nations politics.
Roseanne is a third-generation Chief in her family whose leadership has been groundbreaking and historical for women and youth.
She was the first woman and youngest Chief elected for Taykwa Tagamou Nation (TTN) in 1990 at 23 years of age. She was also the first woman and youngest Deputy Grand Chief for Nishnawbe Aski Nation (NAN) as well as the first female and youngest Grand Chief for Mushkegowuk Council. She served a second term as Chief of TTN, and a second term as NAN Deputy Grand Chief. For nine years, she ran a successful consulting business providing advice and guidance to First Nations leaders, and organizations, specializing in negotiations and facilitation. She returned to elected leadership in 2018 becoming the first woman Ontario Regional Chief leading the Chiefs of Ontario.
As Ontario Regional Chief, Roseanne worked tirelessly and collaboratively with the Ontario Leadership Council over her three-year term. She made positive changes during her term including a strong and effective pandemic response that focused on saving lives and preserving the health and well-being of First Nation citizens; improved relationships with the federal and provincial governments; and established a Council of Elected Women Chiefs and the creation of an Economic Growth and Prosperity Table.
She was elected to Assembly of First Nations (AFN) National Chief in July 2021
******
La Fondation canadienne des relations raciales (FCRR) tiendra son assemblée publique annuelle (APA) le jeudi 13 janvier à 13 h, heure normale de l'Est.
L'APA est l'occasion pour la FCRR de donner un aperçu de ses réalisations au cours de l'année écoulée et un aperçu de ses priorités pour l'année à venir, ainsi qu'une occasion pour les membres du public de poser des questions.
Ordre du jour de la réunion publique annuelle
Bienvenue et remarques d'ouverture
Points saillants des activités de la FCRR
Présentation financière par le président du Comité des finances et de la vérification et le Directeur des finances et de l'administration
Une conversation avec la Cheffe nationale RoseAnne Archibald, Assemblée des Premières Nations
Commentaires du public et questions et réponses
Remarques de clôture
Biographie de la confercière invitée : RoseAnne Archibald, la Cheffe national de l'APN
La Cheffe nationale de l'APN, RoseAnne Archibald, de la Nation Taykwa Tagamou, est une dirigeante axée sur la force et le cœur, avec 31 ans d'expérience en matière de politiques concernant les Premières Nations.
RoseAnne, Cheffe de troisième génération dans sa famille, a fait preuve d'un leadership révolutionnaire et historique pour les femmes et les jeunes.
Elle a été la première femme et la plus jeune Cheffe élue de la Nation Taykwa Tagamou (NTT) en 1990, à l'âge de 23 ans. Elle fut également la première femme et la plus jeune Grande Cheffe adjointe de la Nation Nishnawbe Aski (NAN), ainsi que la première femme et la plus jeune Grande Cheffe du Conseil Mushkegowuk. Elle a accompli deux mandats à titre de Cheffe de la NTT et de Grande Cheffe adjointe de la NAN. Pendant neuf ans, elle a dirigé une société de conseil florissante, en offrant des conseils et des orientations aux dirigeants et aux organisations des Premières Nations et en se spécialisant dans la négociation et la facilitation. Elle est redevenue dirigeante élue en 2018, en devenant la première femme Cheffe régionale de l'Ontario à diriger les Chefs de l'Ontario.
À titre de Cheffe régionale de l'Ontario, RoseAnne a travaillé sans relâche et en collaboration avec le Conseil des dirigeants de l'Ontario pendant son mandat de trois ans. Elle a apporté des changements positifs au cours de son mandat, notamment une intervention ferme et efficace en réponse à la pandémie dans le but de sauver des vies et préserver la santé et le mieux‑être des citoyens des Premières Nations, l'amélioration des relations avec les gouvernements fédéral et provincial, la mise sur pied d'un Conseil des femmes Cheffes élues, ainsi que la création d'une table sur la croissance et la prospérité économiques.
RoseAnne a été élue Cheffe nationale de l'Assemblée des Premières Nations (APN) en juillet 2021.
---
---
More upcoming events