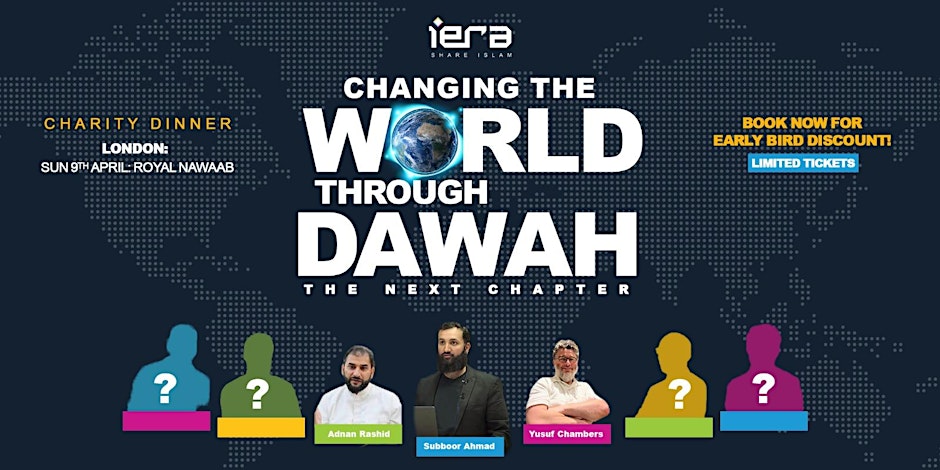 Description:
"This matter (Islam) will certainly reach every place touched by the night and day. Allah will not leave a house or residence but that Allah will cause this religion to enter it…"
[Prophet Muhammad ﷺ]
Today, we have no more Prophets with us, we have no more Sahaaba with us, but Allah has blessed us with the iman and understanding to know that we must continue this legacy of spreading Islam to every corner of the world so that we can see the vision of our Prophet ﷺ achieved, where Islam will enter every house.
We invite you to be educated, inspired and become part of the movement that is changing the world through dawah. Discover how we achieved 50,000 shahadas last year, get inspired by dawah stories from around the world and learn how you can get involved in this noble endeavour.
At the event, you will hear from the people from around the world who are sharing Islam with their communities worldwide.
Speakers:
Ustadh Adnan Rashid
Ustadh Yusuf Chambers
Subboor Ahmad
Esa Khan
Iftar:
Doors Open:
Entry Fee:
£20 (Early bird discount)
£30 (After discount ends)
Reserve a table for up to ten people.
Just like all the Prophets before him, the life of our beloved Prophet ﷺ was dedicated to calling mankind to Allah. The companions understood this duty and obligation on them, to convey Islam to every corner of the world. That is why after the death of our beloved Prophet ﷺ many of them dedicated their lives to venturing to far-off lands to convey the call of Islam.
In return, not only will you be supporting the dawah around the world but you'll be getting the reward for every shahada, every prayer and every good deed – bi'iznillah.
We hope you can join us and we request you to show your support by not only booking your tickets but also encouraging your family and friends to attend by sharing this link.
---
Location:
Royal Nawaab Perivale Western Avenue
Western Avenue
London , UB6 8DB United Kingdom
+ Google Map

---
More upcoming events