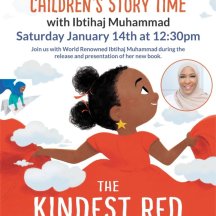 Description:
AssalamuAlaikum,
Alhamduillah, we are honored to have Ibtihaj Muhammad, Olympic Medalist,  First Hijabi Meadlist,  and NY Times best seller join us at The Islamic Center of Greater Austin. She will be releasing her Children's Book, ' The Kindest of Red', will read to the children, as well as sign her new book.
The Islamic Center of Greater Austin has purchased over 200 copies of her book, and we encourage you all to bring your children for this beautiful event.
Program:
Check-In: 12:30PM
Duhr Salaah: 12:55PM 
Story Time With Ibtihaj Begins: 1:10PM 
Q &A Session: 1:40/45PM

Meet & Greet Ibtihaj: 1:55PM 
Conclude: 2:10PM 
About Ibtihaj Muhammad: 

Ibtihaj Muhammad is an entrepreneur, activist, speaker and Olympic medalist in fencing. A 2016 Olympic bronze medalist, 5-time Senior World medalist and World Champion, in 2016, Ibtihaj became the first American woman to compete in the Olympics in hijab. Ibtihaj was a 3-time All American at Duke University where she graduated with a dual major in International Relations and African Studies. In 2014, Ibtihaj launched her own clothing company, Louella, which aims to bring modest, fashionable and affordable clothing to the United States market. In 2017, Mattel announced their first hijabi Barbie, modeled in Ibtihaj's likeness, as part of Barbie's "Shero" line of dolls. The Barbie became available for purchase in July 2018. Ibtihaj also released her debut memoir, PROUD: My Fight for an Unlikely American Dream. In September of 2019, Ibtihaj released her first children's book The Proudest Blue: A Story of Hijab and Family, which instantly became a New York Times Best Seller.
Ibtihaj is a sports ambassador with the U.S. Department of State's Empowering Women and Girls through Sport Initiative and was nominated by President Obama as a member of the President's Council on Fitness, Health & Nutrition. She works closely with organizations like Athletes for Impact, the Special Olympics, and Laureus Sport for Good. Named to Time Magazine's 100 Most Influential list, Ibtihaj is an important figure in a larger global discussion on equality and the importance of sport. Her voice continues to unite both the sports and non-sports world.
LOCATION
Islamic Center of Greater Austin, 78723
---
Location:
Islamic Center of Greater
5110 Manor Rd
Austin , Texas 78723 United States
+ Google Map

---
More upcoming events