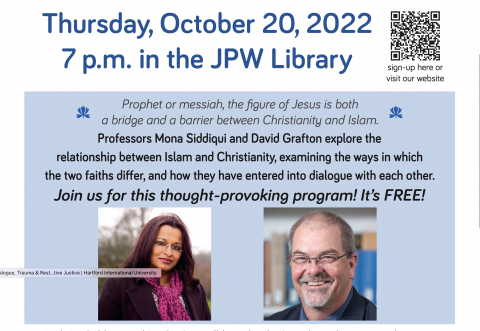 Description:
NOTE: THIS CO-SPONSORED EVENT TAKES PLACE AT THE JOHN P. WEBSTER LIBRARY AT FIRST CHURCH WEST HARTFORD, 12 S. MAIN ST., WEST HARTFORD.
Prophet or messiah, the figure of Jesus is both a bridge and a barrier between Christianity and Islam.
How did some doctrines become the defining characteristics of one faith and not the other? What is the nature of the differences in the theological claims between Christianity and Islam?
In this probing conversation Muslim scholar and popular commentator, Professor Mona Siddiqui and Professor David Grafton explore the relationship between Islam and Christianity, examining the ways in which the two faiths differ, and how they have entered into dialogue with each other. Join us for this thought-provoking program!
Dr. Mona Siddiqui is a Distinguished Professor of Islamic and Interreligious Studies at Hartford International University for Religion and Peace (HIU) and the University of Edinburgh. She is unique as a Muslim scholar in Christian-Muslim relations. Dr. Siddiqui is the author of many books; her most recent is Human Struggle: Christian and Muslim Perspectives.
Dr. David Grafton is Professor of Islamic Studies and Christian-Muslim Relations at HIU, and the author of numerous articles and chapters of books on Christian-Muslim relations.
Both Dr. Siddiqui and Dr. Grafton will have books for sale and signing at the event. Co-sponsored by the Hartford International University for Religion and Peace and the JPW Library. This FREE program will be presented both in-person and via Zoom.
---
Location:
Hartford International University for Religion and Peace
77 Sherman St
Hartford , Connecticut 06105 United States
+ Google Map

---
More upcoming events