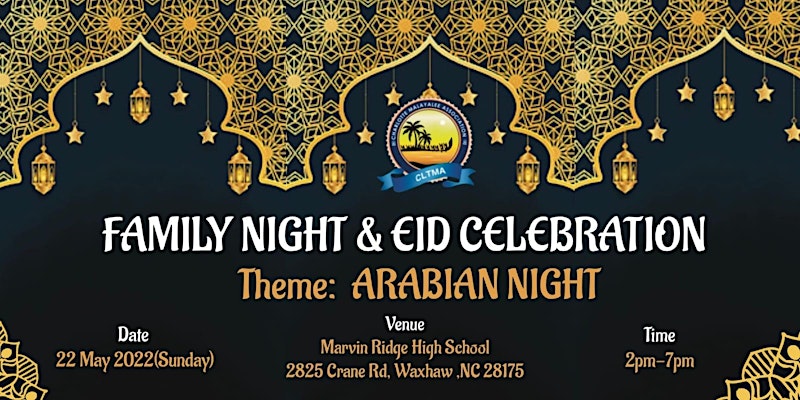 Description:
Charlotte Malayalee Association will celebrate this year's Family Night and Eid celebrations at Marvin Ridge High School, Waxhaw, NC 28175
Charlotte Malayalee Family Night 2022 and Eid Celebrations @ Marvin Ridge High School on Sunday, May 22nd, 2022 from 2.00 PM to 7:00PM.
CLTMA members can register for FREE using their registered email in the promo code.
Non-members entry/registrations are $10. (We encourage the members to renew their membership through www.cltma.org).
Location:  Marvin Ridge High School, 2825 Crane Road, Waxhaw, NC 28175
Date: Sunday, May 22nd 2022 Time 2.00 PM – 7.00 PM
This will be a fun filled afternoon with music, dance, games, and other cultural activities with your friends and CLTMA family. Please come dressed-up to impress the crowd with the 'Arabic Theme'.
Delicious snacks and dinner will be available to purchase from the food stalls:
Chaat Items: (Available from 1 pm to 3.30 pm)
Vada pav
Samosa chat
Papdi chat
Sev puri
Pani puri
Chicken Haleem (Available from 5pm to 7pm )
Dinner: (Available from 5pm to 7pm Vendor: Persis Biryani)
Non-Veg Menu:
Butter Roti
Chicken Seek Kabab
Chicken Chettinad
Persis Chicken Biriyani
Veg Menu:
Butter Roti
Vegetable Fried Rice
Panner Butter Masala
Gobi Manchurian
Sweets/Deserts:
Tea or Sulaimani will be served @ 4pm by CLTMA for Free
Cultural shows that are planned include Adult/Kids Solo/Group Songs (Group of minimum 4), Skit/Special talents (ex. Mimicry, Monoact etc), Fashion Show (Kids/Women/Men).
If you want to participate in a program, please send your entries through the google form ASAP. Program Registration Link
---
Location:
Marvin Ridge High School
2825 Crane Road
Waxhaw , North Carolina 28173 United States
+ Google Map

---
More upcoming events