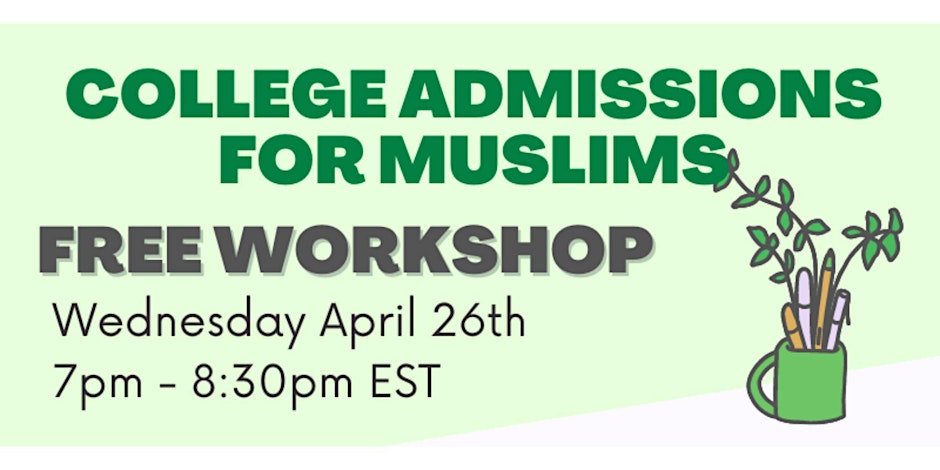 Description:
7:00pm EST | 6:00pm CST | 5:00pm MST | 4:00pm PST
Assalamu Alaikum Brothers and Sisters,
Are you a Muslim family concerned about navigating the college admissions process while ensuring your child maintains their Islamic values and faith? Now, more than ever, it is essential that we help our children navigate college life and the admissions process smoothly.
Join us for a comprehensive presentation on the essentials of college admissions and how to help your child strengthen their Deen and Iman in a college environment.
What we'll cover:
College Admissions 101 – Learning the basics of the US college admissions process
Gaining Better Scholarships and Opportunities as a Muslim – How to increase your chances of scholarships, admissions, and opportunities because of your faith, culture, and diversity
Preserving Islamic Values in College – How to use time in college to strengthen your Deen and Iman.
Community – Overcoming temptations and surrounding yourself with like-minded people.
Your presenter is a fellow Muslim with over 15 years of experience teaching, mentoring, and coaching teens through academic and college admissions journeys. Don't miss this unique opportunity to ask all of your questions and gain valuable insights.
Register now!
Note – We also have a second presentation for our West Coast brothers and sisters available on the same day at 6:30pm PST if that time is better for you.
Registration required to get link to the event. If you cannot attend, email [email protected] and she will inform you of alternate days and times.
---
---
More upcoming events