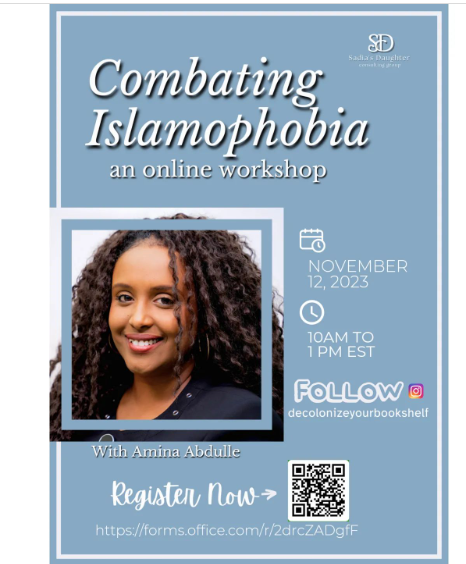 Description:
Islamophobia, the dislike or prejudice against Muslims or Islam, is ever present in our society. In order to combat Islamophobia, and any other form of hate, we must educate ourselves and become equipped with the tools and rhetoric to do good.
Join me in this one day workshop where we will explore the root causes of Islamophobia, build on concepts such as bias, socialization and privilege and explore practical ways to combat discrimination.
Instructor: Amina Abdulle
Amina Abdulle is a Somali-born, Muslim Canadian awareness builder. As a public speaker and a certified mentor-coach, Amina has worked on creating extensive workshops and trainings focused on a variety of social justice-based topics. After working as an advocate within her community for over a decade, Amina founded Sadia's Daughter Consulting, a consulting group focused on supporting people through an anti-oppressive, anti-racist and post-colonial lens.
Workshop will run on Zoom on Sunday, November 12 from 10am to 1pm ET
Registration Required
---
---
More upcoming events