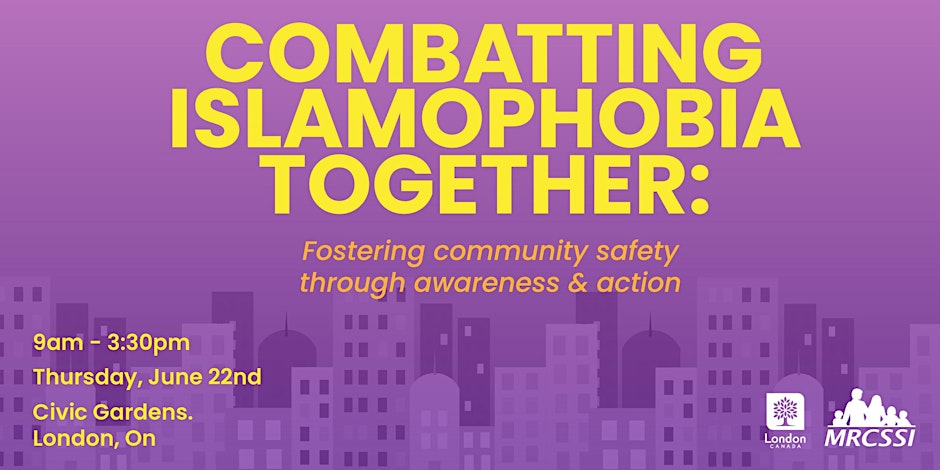 Description:
Combatting Islamophobia Together: Fostering community safety through awareness & action
On Thursday June 22nd, the Muslim Resource Centre for Social Support and Integration (MRCSSI) is hosting a free day-long workshop open to members of the public and service providers.
June 6th, 2023 marked the two-year commemoration of the Islamophobic terror attack that took the lives of four members of Our London Family. At this year's vigil the theme of resilience was highlighted. Resilience is nurtured in community through intentional connections, commitments, and actions that strengthen safety for us all.
Combatting Islamophobia Together is for anyone interested in learning more about Islam, Islamophobia, and about practical strategies of allyship.
In this day-long workshop on Thursday June 22nd, you will:
Strengthen your understanding of Islam
Gain a deeper awareness of Islamophobia, including Gendered Islamophobia, and its impacts on individuals, families & community
Learn practical skills of Bystander Intervention so you can help to create safety in situations of Islamophobic harassment & violence
Enjoy a free lunch 🙂
Addressing all forms of hate, violence and oppression is a collective community responsibility, join us to move forward the work of combatting Islamophobia together.
We look forward to seeing you on Thursday June 22nd.
WHEN: Thursday June 22nd – 9 am to 3:30 pm
WHERE: Civic Gardens, 625 Springbank Dr, London
PERKS: Lunch and refreshments , meeting & interacting with wonderful people
---
Location:
Civic Gardens
625 Springbank Dr
London , Ontario N6K 4T1 Canada
+ Google Map

---
More upcoming events