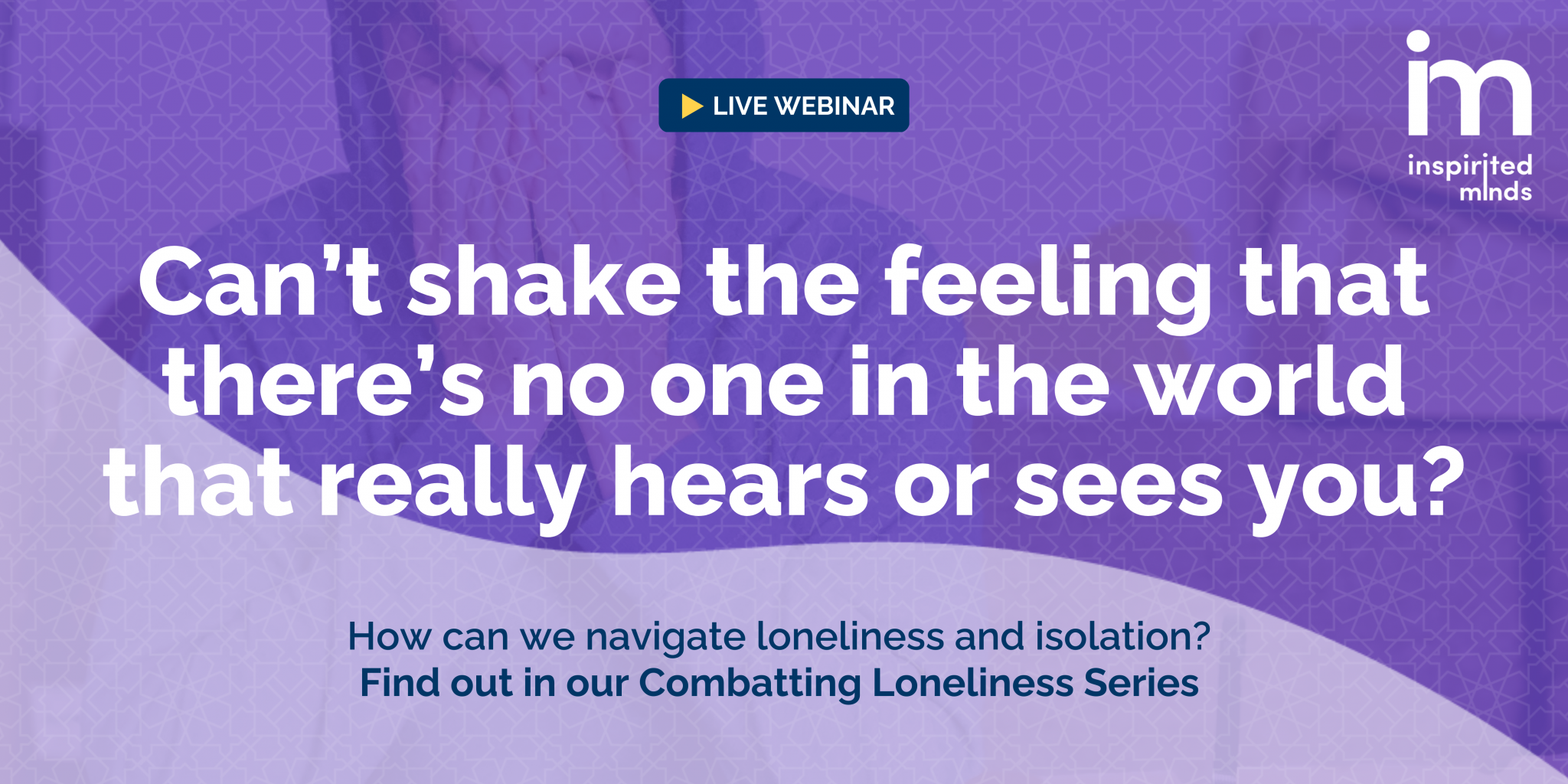 Description:
"The Believers, men and women, are protectors one of another: they enjoin what is just, and forbid what is evil: they observe regular prayers, practise regular charity, and obey Allah and His Messenger. On them will Allah pour His mercy: for Allah is Exalted in power, Wise." [Qur'an 9:71]
Experiencing mental health issues is already an isolating experience, so to feel as though you have no one who really sees you, hears you or understands you can make the world feel bigger and emptier.
Loneliness comes in many forms, it's not just about how many people you have around you. You can still feel alone even when in a room full of your loved ones. Feelings of loneliness can increase when you feel unacknowledged and invalidated. They can also lead to many negative patterns of behaviour which can escalate and become problematic. However, Islam is a collectivist religion and we should pride ourselves on how we, as an Ummah, are like one body.
It is therefore our collective social responsibility to understand how to help ourselves when we feel loneliness, and also help those around us who may be experiencing loneliness. By attending this webinar, you will be contributing towards the mission of improving the mental health and wellbeing of the Ummah, In Shaa Allah!
You will also receive a certificate of attendance.
Dates and Times: 
Part 1: Saturday, 28th January, 11am-1pm
Part 2: Sunday, 29th January, 11am-1pm
By attending Part 1 and Part 2 of this webinar, you will learn about:
The difference between loneliness and social isolation, what can lead to loneliness and Prophetic examples of both.
What Islam says about loneliness and isolation, it's advantages and disadvantages, and how to combat such issues.
Identify unhelpful coping mechanisms for loneliness and more helpful ones.
Practical and spiritual advice on how to better mental health and wellbeing, and where to obtain additional support or information.
Disclaimer:
Due to the sensitive nature of the topic and the discussion of potentially triggering topics, we recommend individuals to only attend if they feel safe and well enough. Please note that we aim to have a member of our qualified support team present whom you will be able to contact via the chat box should you need any support during the webinars, however this is subject to their availability.
Important things to note before the sessions:
Please arrive at least 5 minutes prior to 11am GMT as we aim to have a prompt start.
This webinar has 2 parts and places are non-refundable, so please check that you can attend both sessions in advance of booking.
We highly encourage participants to attend both sessions and participate in as many discussions as possible in order to reap the full benefits of the webinar.
We are unfortunately **unable to provide partial refunds** in the event of participants missing one of the two sessions.
If you cannot afford a place on the webinar but would like to attend, please email 

[email protected]

 so that we can offer a concession rate. Please be assured that this will remain anonymous to the workshop facilitator and will be handled with privacy.
The webinar sessions will take place via Zoom. Some interactions will be required via Slido so please have a smart phone or device handy, and Zoom chat box, should you wish to participate.
The Zoom link will be sent both 1 hour before and 10 minutes before each session. Please ensure you check your junk mail to ensure you do not miss this.
The training will be recorded for internal training purposes only and will not be made available to attendees.
We require the feedback form to be completed by all participants on both days in order to receive the slides and your respective certificate of attendance.
For any further questions or information, please email 

[email protected]

.
---
---
More upcoming events