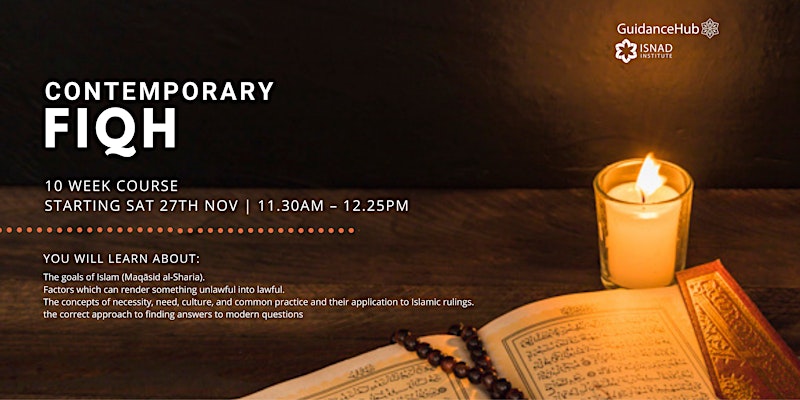 Description:
9-week course taking place once a week on Saturdays, this course is open to both males and females.
As Muslims, we perform acts of worship such as praying and charity. However,
modern-day life throws many other challenges at those wanting to practice their
faith. One of the biggest challenges is knowing what is lawful (halal) and what is
unlawful (haram). With further advances in living come more questions, especially
for Muslims in the West.
Is alcohol-based perfume permissible to use?
Can I have hair extensions, tattoos, or shape my eyebrows?
Are blood transfusions and organ transplants permitted?
Can I use medicines that have alcohol in them?
What about student loans; are they allowed?
Are pyramid schemes, bonds, and shares permitted?
Are abortions allowed?
Unit Aims:
Understanding the Goals of Islam (Maqāsid al-Sharia).
Analyzing factors that can render something unlawful into lawful.
Exploring the concepts of necessity, need culture, and common practice and their application to Islamic rulings.
What will I learn?
The rulings of contemporary financial issues including shares, bonds, finance
purchase, currency exchange, mortgages, and student loans.
The rulings of contemporary medical issues include abortion, organ donation,
organ transplantation, blood transfusions, skin grafting, & alcohol-based medicines.
The rulings of common contemporary issues such as smoking, contraception,
alcohol-based toiletries and ingredients, animal-based ingredients, & keeping pets.
The seven factors which allow qualified scholars to change legal rulings.
What will I achieve?
Describe the spiritual impact of not avoiding unlawful matters.
Describe the correct approach to finding answers to modern questions.
Identify and explain how and why legal rulings can change.
Nov 27th, 2021 – Feb 12th, 2022 (with break)
Open to all
Ages 14+
From £20
Full course material included
Limited places
Taught by experienced instructors
---
Location:
Guidance Hub
389 Waterloo Road
Manchester , M8 9AB United Kingdom
+ Google Map

---
More upcoming events