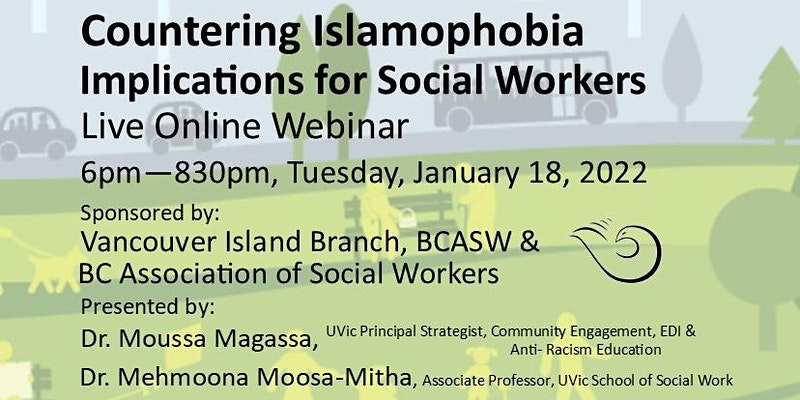 Description:
This webinar encourages reflection on our understanding of Islamophobia and will assist with the development of skills needed to be an ally.
Through presentations and conversations in small and large groups, participants will:
1. Critically reflect on your understanding of Islamophobia and how it may manifest in everyday interactions with Muslim people in your workplaces and services.
2. Courageously recognize those systems that may support, reinforce, or perpetuate Islamophobia and other religious bigotry in your workplaces, services.
3. Understand the intersections of power, privilege, and other socio-cultural and political realities and their impacts on your relationships with Muslim people and other religious minorities.
4. Explore the implications and challenges for social workers
5. Develop concrete skills on how to facilitate Muslims belonging and inclusion in your workplaces, practice, and communities.
6. Develop clear and accessible skills in how to be an ally to Muslim people and co-conspirator against Islamophobia and any religious bigotry. Be provided with some useful resources and references.
Facilitators:
Dr Moussa Magassa, UVic Principal Strategist, Community Engagement, EDI & Anti- Racism Education.
Works to enhance understanding of the university's human rights, equity, diversity, inclusion, and Anti-Racism education goals and commitment to community engagement and participation. Facilitates collaboration between both campus partners and the wider Victoria communities to design an EDI and Anti-Racism project charter. His PhD thesis explored Islamophobia on Canadian campuses. He is a practising Sunni Muslim.
Dr. Mehmoona Moosa-Mitha, Associate Professor, UVic School of Social Work
Mehmoona has worked for many years with children and their families, particularly in inner city, poor areas populated with people from visible minority communities.
Her research interests include anti-oppressive practice and teaching; children's rights; child welfare practice and policy, citizenship, and diversity.
Disclaimer – The educational material presented in BCASW hosted events is for general educational information purposes only and is solely the opinion of the author, presenter and instructor. No webinar is intended to provide professional or legal advice, and the material presented is not necessarily considered mainstream social work theory or practice. It is left to the discretion and judgment and is the sole responsibility of each attendee to determine what is useful for their own practice. BCASW cannot be held responsible for the material, opinions, or any inadvertent errors or omissions in the preparation or presentation of the material.
---
---
More upcoming events