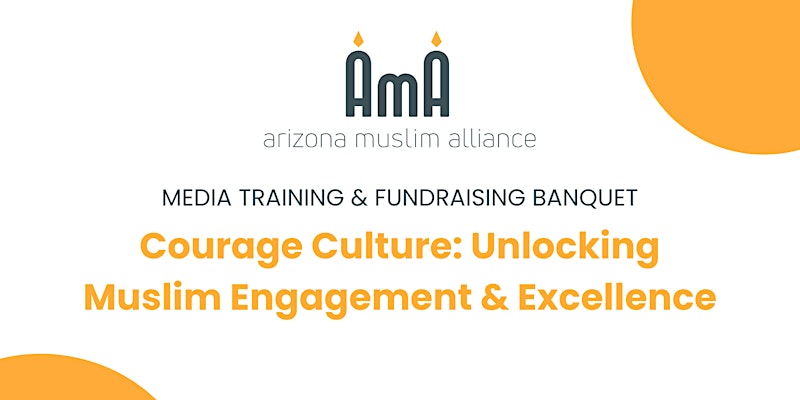 Description:
Join us for a panel and workshop on how to engage with the media. End the day with dinner with renowned Muslim activist, Linda Sarsour.
"Courage Culture" is a term coined by Muslim American activist Linda Sarsour, calling for all Americans to boldly stand for equity and the rights of vulnerable communities. Linda has been at the forefront of the fight for social and political justice for over 20 years.
Join us at 1 pm for a panel discussion about how to leverage the media to create a social justice campaign with Linda, along with journalists Suzanne Bassal and Jackie Shoyeb, and crisis media manager, Azra Mahmood. Panelists will host breakout sessions after the panel with hands-on training on the following topics:
– Press Release 101
– Crisis Management & the Media
-How to use Social Media Effectively
-How to Build an Effective Issue-Based Campaign
An hour of Networking at 4 pm will bridge our workshop to our evening banquet, "Courage Culture: Unlocking Muslim Engagement & Excellence" at 5 pm. Arizona Muslims Alliance is proud to host Linda Sarsour as the keynote speaker for the evening, while also sharing important initiatives it is undertaking in collaboration with many valley organizations.
ARIZONA MUSLIM ALLIANCE
Arizona Muslim Alliance is an umbrella organization of Muslim entities and works to unite, coordinate and support those organizations and our diverse Muslim community. Founded in 2014, AMA provides its member organizations with a forum for collective conversation, consensus, and collaboration among them. AMA provides guidance & support on issues related to religious life, civil rights, organizational management, and leadership ethics. Some AMA initiatives include Mosque Open Houses, Muslim Day at the Capitol, Mosque Leadership Training, Community-wide Zakat Database, Refugee Task Force, and Celebrate Unity events, among others. AMA is at the forefront of channeling the impact of Muslims in the broader society.
---
Location:
Arizona Cultural Academy & College Prep (ACA)
7810 South 42nd Place
Phoenix , Arizona 85042 United States
+ Google Map

---
More upcoming events