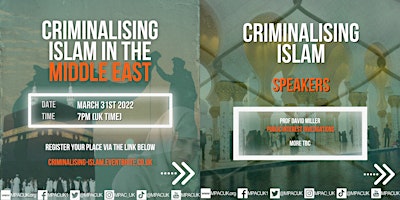 Description:
Is Islam itself being criminalised, in the name of 'countering violent extremism? How does this affect every Muslim in the Middle East?
With normative Islamic practices being used as indicators of extremism by an increasing number of authorities around the world, Muslims must awaken to the fact that our religion itself is being criminalized.
We are now living in a world where laws that target Muslims in one country are then copied in another. Our Ummah has truly become united under institutionalized Islamophobia, as never seen in living memory.
But how did we reach this point? What impact is this having on our daily lives? And what next for the Muslims of the Middle East?
Book your place at this free event to learn more, and to join the fight against institutionalized Islamophobia.
Join our expert speakers as they discuss the above topics, and more:
David Miller of Public Interest Investigations
Feel free to promote this event with this banner:
---
---
More upcoming events