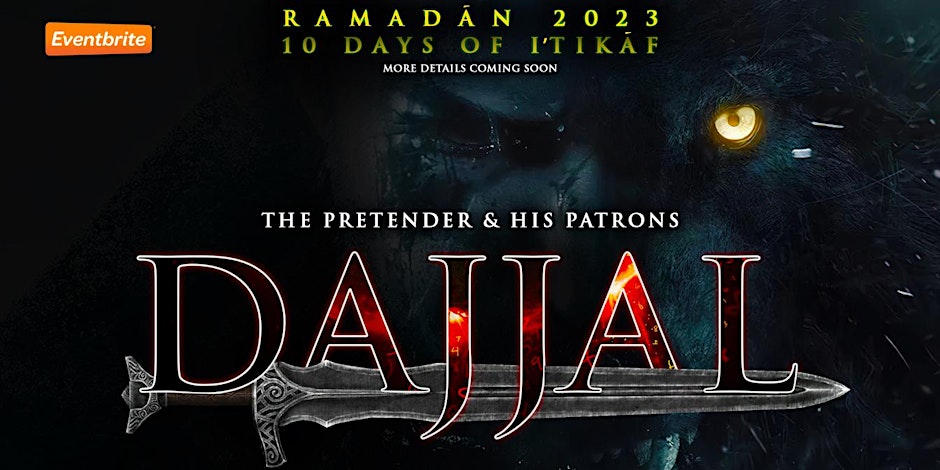 Description:
During this period of I'tikaf, you will gain insight into the greatest temptation to ever come to the world. It's a subject of great interest for many, and we all eagerly consume information about it through reading and watching. Truthfully, we may not even be alive when he arrives, but the Dajjalic system is already in place, are you prepared for it and his arrival?
You will have an insight on the Dajjal and the Test and Tricks he will carry out, but more importantly we will give you the practical solutions on how you can Safeguard yourself from the Dajjal and His Ideology and System.
Our goal is to strengthen your actions so that they align with the Prophetic way, to protect you from any physical harm from him. We will fortify your mind to prevent confusion and manipulation by his lies. Additionally, we will provide you with the tools to cultivate qualities that will make you a supporter of those who will defeat him, Sayyidina Isa and Imam Mahdi, may Allah be pleased with them both.
The Night of Power consists within these 10 Nights and we look forward to seeking this and understanding how we can then Power our Life in Obedience to Allah The Merciful.
Date & Time:
Date: Expected Date "Monday 10th April 2023" (Subject to Moon Sighting for Ramadan)
Duration: Dedicated 9 or 10 days (Subject to Moon Sighting for Eid ul Fitr)
Retreat Commences: 19:30pm BST on the 21st Night of Ramadan
** The Entire Retreat will be Hosted from the UK and ran according to BST **
Venue:
Physical Participation | Madina Mosque, 128 St Georges Street, Bolton, BL1 2BZ, UK
Online | Broadcasting on Zoom for Sisters and International Participants
What to Expect:
During this Spiritual Retreat you will Learn:
The Tricks & Test of the Dajjal
Allow you to Recognise him and his System
Equip you with the tools to Defend Yourself against the Dajjal & his Ideology
Life Lessons of the Dajjal and his system already in place
Discover the Purpose of Life
Discourses | Interactive Worskshops | Presentations | Meditation | Divine Remembrance
His Eminence & Teachers:
Under the Supervision of the Principal of UK Academy of Islamic Sciences: Shaykh Ahmad Dabbāgh
Stay Connected For More Details to Follow:
Email: [email protected]
Brothers | +44 7460 642 563 and Sisters | +44 7752 341 654
Stay Connected by following us on: Facebook; YouTube; Instagram; Pinterest; TikTok  
---
Location:
Madina Mosque
مسجد 128 Saint George's Road
Bolton , BL1 2BZ United Kingdom
+ Google Map

---
More upcoming events