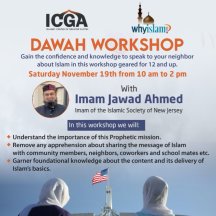 Description:
Join us for this Dawah workshop and gain the confidence and knowledge to speak to your neighbor about Islam in this workshop geared for 12 and up. Iman Jawad Ahmed one of the pioneers of the National Dawah Organization 1-877-Whyislam will be the speaker and presenter in this session. 
We will focus on:
• Understanding the importance of this Prophetic mission.
• Removing any apprehension about sharing the message of Islam with community members, neighbors, coworkers and school mates etc.
• Garnering foundational knowledge about the content and the delivery of Islamic basics.
Refreshments and Lunch Provided

Imam Jawad Ahmed graduated from International Islamic University, Islamabad, Pakistan with a Bachelors (Honors) degree in Usool-uddin (Islamic sciences) with specialization in Tafseer and Hadith.
Imam Jawad also has a Bachelors of Science degree from University of Maryland at College Park with specialization in Physical Sciences
He also has Certification and Teaching License for Arabic and Islamic Studies from Al-Azhar University in Cairo Egypt
He has been Imam and Director in various New Jersey masajid as well as Director of Religious Studies at Al-Ghazaly Islamic High School for more than 8 years
Imam Jawad is one of the pioneers of the National Dawah Organization 1-877-Whyislam and has been managing the hotline of more than 25 volunteers for the last 20 years and has had more than 200 Shahadahs over the phone himself Alhamdulillah
He is extremely popular amongst the youth and is one of the pioneer murabbis of the Young Muslims organization of ICNA from 2001
Currently he is Imam of Islamic Society of North Jersey in Budd Lake NJ Muslim and has been giving khutba and lectures to both adults and youth
LOCATION
Masjid Khadijah – 5110 Manor Rd. Austin, TX, 78723
---
Location:
Masjid Khadijah
5110 Manor Rd
Austin , Texas 78723 United States
+ Google Map

---
More upcoming events