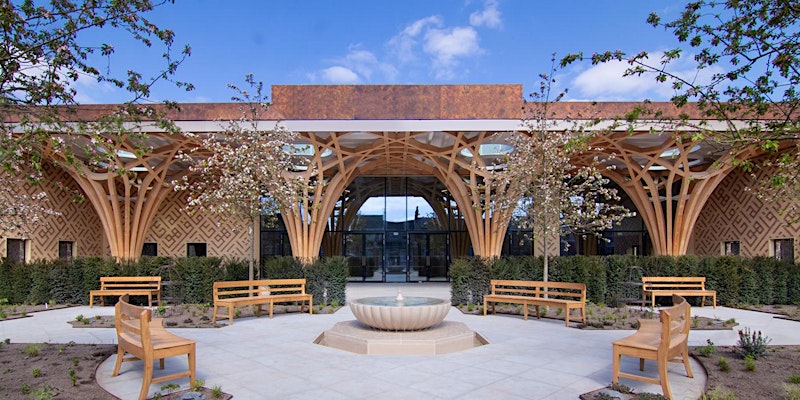 Description:
Enrich your visit to the award winning Cambridge Central Mosque by taking a guided tour with one of our expert volunteer guides.
Discover how its design evolved in the hands of the architects behind the London Eye.
Find out how a place of worship with a capacity for 1,000 people still aims to be carbon-neutral.
Be excited by the vision for the whole community that shapes this amazing building.
Your visit will include:
A walk through trees, flower beds and a fountain, reminiscent of the great Islamic gardens.
A tour of the portico, atrium, teaching room, cafeteria and the special facilities for mothers and children.
A guided explanation of the ablution areas, prayer hall, and the daily rituals performed.
Tours will begin promptly so please be on time, please note that unless you have a valid exemption it is currently mandatory to wear face coverings in places of worship.
We look forward to welcoming you!
FAQ
Do I need to wear a face covering?
It is not mandatory to wear a face-covering when visiting our mosque. However, we do strongly recommend it.
What are my transport options for getting to and from the mosque?
The mosque has underground parking for cars and motorbikes (76 spaces), accessed via the ramp on Mill Road. There are disabled parking spaces and an electric charging point.
However, where possible we encourage our visitors to arrive by bus, bike, or on foot to reduce their carbon footprint.  The bus stop is directly outside the mosque and bike racks are provided in the front and rear gardens and in the car park.
What about the dress code?
Out of respect for our place of worship, adult visitors are requested to observe modest dress that covers their arms and legs. Women will be asked to cover their heads before entering the prayer hall, so please bring a scarf with you.
All visitors will be asked to remove their shoes at the entrance.
Can I bring my children?
Children of all ages are welcome. However, we do ask that they be supervised at all times.
I'm in a wheelchair – will I be able to join the tour?
The tour is wheelchair-accessible and there is a lift from the car park.  Please let us know in advance if you require special assistance.
Can I bring my dog?
Unfortunately, we do not allow pets to join tour groups.
Can I bring a group?  
We offer allocated slots during the week for Organisational Tours, although availability is limited at the moment. We are training further volunteer guides and hope to offer more tour slots in the not too distant future.
Please visit https://cambridgecentralmosque.org/tours.
All the tickets are sold out! Will more tour dates be offered?
Tours are scheduled on a regular basis. Please check this page regularly to find out about the next batch of tours.
---
Location:
Cambridge Central Mosque
309-313 Mill Road
Cambridge , CB1 3DF United Kingdom
+ Google Map

---
More upcoming events