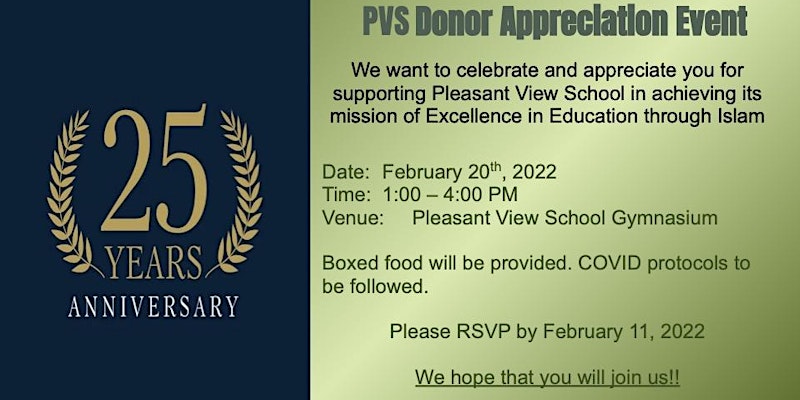 Description:
ASSALAMU ALAIKUM WA RAHMATULLAHI WA BARAKATUHU
This year marks a special moment in the history of Pleasant View School as we celebrate 25 years! We would like to thank you for your continued support. PVS is blessed to have received your continuous duas, advocacy, and financial support since opening its doors as an educational institution in 1997.
Alhamdulillah, we are blessed to have a committed and consistent group of supporters in our vital role as the Greater Memphis Muslim community's full-time Islamic school.
We would like to invite you as our committed donors for a celebratory luncheon and sincerely hope you will be able to join us on-site to view the changes in the campus.
For more information, please contact us at [email protected] or (901)422-5416.
Jazakum Allah khairan,
Br. Ahmet Mutlu Celikok
President, Pleasant View School Board of Directors
---
Location:
Pleasant View School
1888 Bartlett Road
Memphis , Tennessee 38134 United States
+ Google Map

---
More upcoming events