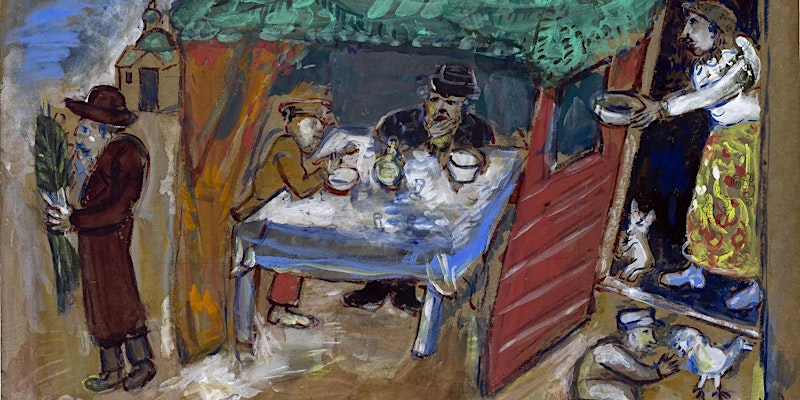 Description:
Dr. Fradkin discusses the Complications of Sukkot and its "Art" A Holiday of Harvest, A Remembrance of Desert Wandering and A Pilgrimage
Dr. Hillel Fradkin will give a talk on the Jewish festival of Sukkot that is celebrated in the autumn. It is one of a trio of festivals established in the Torah or Pentateuch. All of these festivals have a dual significance: they mark a crucial season of the agricultural year; they mark a crucial historical event or aspect of the liberation of the ancient Israelites from Egypt and their founding as the Nation of Israel. In ancient times, they were celebrated in a two-fold way: first, as familial gatherings in the home; second, as partially communal gatherings where Israelite males assembled at the Dwelling or Tabernacle of God wherever it might be located. In the latter respect they were "pilgrimage" festivals. Sukkot is unique among the three in that it requires a "construction," the construction of a "booth," a Sukkah in which the family takes its meals for seven days. But the booth is meant as a remembrance of the ancient journey of the Israelites from Egypt to the Land of Israel, during which they had no permanent home. Fradkin will discuss the particular character of Sukkot and its relationship to the issues of home, pilgrimage and pedagogical remembrance. He will make some observations about the religious pilgrimage duties stipulated by Islam.
Fradkin currently works on the issue of religion and politics in Muslim affairs and in the Middle East and writes frequently on those subjects. He is a student of the history of Jewish and Islamic thought. He has recently finished a book on the history of Islam seen through the prism of the conflict between its two main branches, Sunnism and Shiism. He is writing a book that offers an account of the teaching of the Torah or Pentateuch based upon an interpretation of its narrative form. He earned a doctorate in Islamic Studies under the direction of Fazlur Rahman from the University of Chicago and a BA in Government from Cornell University.
---
---
More upcoming events